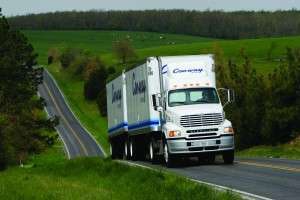 Con-way Inc. on Thursday, Aug. 4 reported a net profit of $29.4 million and operating profit of $60.2 million for the second quarter ended June 30. That compares to a $13.9 million net and $35.4 million operating profit in the same quarter last year. Revenue was up 3.2 percent to $1.35 billion.
Douglas Stotlar, Con-way's president and CEO, credited much of the gain to continued improvements in the company's LTL operation. "The employees of our LTL business are doing an excellent job executing our strategy," Stotlar said. "Margin expansion continued, driven primarily by pricing improvements and ongoing operating efficiencies. We will maintain our focus on pricing discipline and initiatives to improve margins."
The company's Menlo Worldwide Logistics unit nearly matched last year's record operating profit, while Con-way Truckload recorded increases in revenue, profits and operating efficiencies compared to the second quarter of 2010, Con-way announced. "Strong operating discipline and improved pricing led to a good quarter for our full truckload company," Stotlar said.
Relative to the second quarter of 2010, Con-way Freight's revenue was up 2.8 percent, and its operating profit was up 127.3 percent. Tonnage was down 8.3 percent. Con-way Truckload's revenue was up 6.9 percent, reflecting both higher fuel surcharges and improved revenue per loaded mile, Con-way reported. Operation profit was up 101.1 percent.