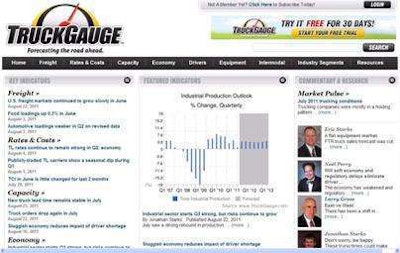 FTR Associates and Randall-Reilly Business Media & Information have launched TruckGauge, a forecasting and analysis information product for the trucking industry. TruckGauge is a Web-based subscription-only service that provides forecasts, analysis, news and commentary on the economy, freight, rates, costs, capacity, drivers, equipment and more.

TruckGauge features regular e-mail alerts on the latest data and a weekly print-friendly summary of the most important indicators. Subscribers also have access to Randall-Reilly MarketPulse – a monthly survey that tracks the same group of leading trucking company chief executive officers and chief financial officers month after month.

FTR's key analysts — Eric Starks, Noel Perry, Larry Gross and Jonathan Starks — contribute their insights through regular blog posts, as does Avery Vise, head of research and analysis for Randall-Reilly.
Individual and group subscriptions starting at $50 a month are available at www.TruckGauge.com/subscribe. A 30-day free trial is available at www.TruckGauge.com/free-trial.