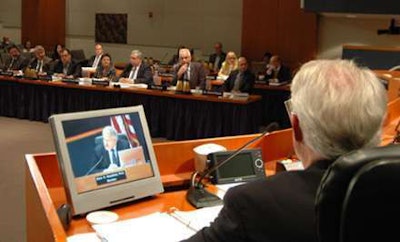 Citing distraction from the use of a mobile phone by the driver of an 18-wheel semi-truck as the probable cause of a crash that killed 11 people, the National Transportation Safety Board on Tuesday, Sept. 13, recommended banning the use of mobile phones by commercial drivers except in emergencies.
"Distracted driving is becoming increasingly prevalent, exacerbating the danger we encounter daily on our roadways," said NTSB Chairman Deborah Hersman. "It can be especially lethal when the distracted driver is at the wheel of a vehicle that weighs 40 tons and travels at highway speeds."
On March 26, 2010, at about 5:14 a.m. CT, near Munfordville, Ky., a truck-tractor semitrailer combination unit driven by a 45-year-old male departed the left lane of southbound Interstate 65, crossed a 60-foot-wide median, struck and overrode a cable barrier system, entered the northbound travel lanes and struck a 15-passenger van driven by a 41-year-old male and occupied by 11 passengers (eight adults, two small children and an infant). The truck driver and 10 of the 12 occupants of the van were killed.
Investigators determined that the driver used his mobile phone for calls and text messages a total of 69 times while driving in the 24-hour period prior to the accident. The driver made four calls in the minutes leading up to the crash, making the last call at 5:14 a.m. CT, coinciding with the time that the truck departed the highway.
NTSB also determined that the median barrier system, which recently had been installed following another cross-median fatal accident on the same section of I-65, contributed to the severity of the accident because it was not designed to redirect or contain a vehicle of the accident truck's size. Because median crossover accidents involving large vehicles are so deadly, the NTSB made recommendations regarding the use of appropriately designed median barriers on roadways with high volumes of commercial vehicles.
At the meeting, the NTSB issued 15 new safety recommendations to the Federal Highway Administration, the Federal Motor Carrier Safety Administration, the National Highway Traffic Safety Administration, the American Association of State Highway and Transportation Officials, the Governors Highway Safety Association, all 50 states and the District of Columbia. The board also reiterated two previously issued recommendations to FMCSA. For more information, go to www.ntsb.gov/news/events/2011/munfordville_ky/index.html.
FMCSA last year banned truck drivers from text-messaging while driving, and the agency also is considering a rule that would prohibit interstate commercial truck and bus drivers from reaching for, dialing or holding handheld cell phones while operating a commercial motor vehicle in interstate commerce.
The American Trucking Associations said NTSB's report underscores the importance of state and federal policymakers moving forward on a number of items in its progressive safety agenda. "This crash, like all truck-involved crashes, is a tragedy, and we're hopeful that NTSB's recommendations will lead to safer highways for all motorists, including professional truck drivers for whom the road is their workplace," said Bill Graves, ATA president and chief executive officer. "We're also encouraged that a number of the board's recommendations fit with ATA's progressive safety agenda, which we put forward as a way of reducing crashes on our highways."
Like NTSB, Graves said ATA supports the enactment of prohibitions on the use of handheld cell phones to talk or text by all motorists, not just commercial drivers. "The 2009 Virginia Tech study on driver distraction, widely recognized as the 'gold standard' in the field, highlights texting and talking on a handheld phone, as well as dialing and reaching for a phone, as incredibly risky behavior," Graves said. "Enacting bans on these behaviors will go a long way toward reducing crash risk for all of us."
Graves said ATA's policy does not call for a prohibition on hands-free cell phone use because the most compelling and reliable research in the area shows that hands-free use does not elevate crash risk and perhaps even reduces it. Beyond the phone recommendations, Graves said NTSB's other points support long-held positions of ATA.
"We've been strong supporters of strategies to increase seatbelt use on our roads, bolstering federal oversight of new trucking companies and of CSA, the safety monitoring system that if fully in place may have identified the company involved in this particular crash as a safety risk in a more timely fashion," Graves said. "The NTSB identified all of these factors as being involved in this crash, and ATA has identified them all as important safety items for policy makers to consider."