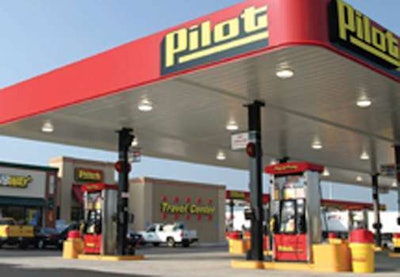 Total merchandise purchases by truckstops nationwide served by McLane Corp. increased 24 percent during the 2011 second quarter, compared with a year earlier, led largely by hot and cold beverage sales along with commissary, food service, dairy and deli sales, according to the McLane-NATSO Index released Tuesday, Sept. 13.
The index, designed to illustrate market trends within the truckstop and travel plaza industry by comparing the weekly wholesale sales of supply chain provider McLane to truckstop convenience stores, found that hot dispensed beverages like coffee, cappuccino, lattes and tea jumped 54 percent for the three-month period, ending June 30. McLane says the increase was driven largely by rapidly escalating coffee bean prices, which jumped 50 percent between March 2010 to March 2011, forcing retailers to charge more for coffee or reduce their margins.
The 2011 Second Quarter McLane-NATSO Index shows that sales of commissary, dairy and deli products jumped 23 percent compared with the same period a year earlier as retailers continue to market these higher-margin products. Cold dispensed beverage sales, meanwhile, increased 22 percent. These two categories reflect a growing trend toward "grab and go" food at truckstops.
"Our mission at NATSO is to advance the success of our truckstop and travel plaza members," says Lisa Mullings, NATSO president and CEO. "This index allows our members to better understand customer buying trends so that they can better meet their customer needs."
Total merchandise purchases include the range of convenience store items sold at a truckstop, excluding cigarettes, divided into nine other categorie,s including candy, snacks, nonalcoholic packaged beverages, automotive products, commissary, food service, other dairy and deli products, and hot and cold dispensed beverages. McLane tracks its weekly wholesale sales for more than 900 truckstop locations nationwide. The complete index report, including regional breakdowns, is circulated free to all NATSO members.
"Consumers, including independent truck drivers, have a variety of options today on where and how to spend their money," says Steve Brady, McLane vice president of sales, military and convenience stores. "For plaza owners who want to reach this audience with the right products – convenience merchandise and other nonfuel products and services – the McLane-NATSO Index is a valuable tool."
This index represents a cornerstone in NATSO's efforts to supply key statistical and industry reports that will provide its members, their trucking customers and suppliers insight into the size, scope and health of the truckstop and travel plaza industry.