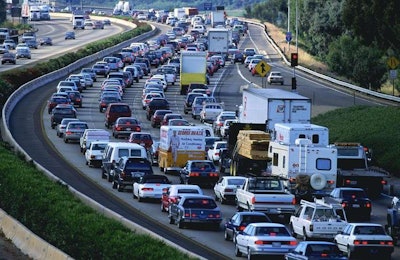 The American Trucking Associations on Tuesday, Sept. 13, said that while President Obama's jobs proposal could boost employment temporarily, it is no replacement for passing long-overdue multiyear transportation legislation.
"We certainly appreciate that President Obama is again looking at using infrastructure investments to boost the economy," said Bill Graves, president and chief executive officer. "However, his jobs legislation will do little to address our nation's pressing infrastructure needs and may hinder Congress' progress on crafting a long-term highway bill."
The U.S. House of Representatives on Tuesday voted to temporarily extend the surface transportation system through March 31 and the Federal Aviation System through Jan. 31. The bipartisan extension bill, which was sent to the Senate for approval, was introduced by House Transportation and Infrastructure Committee Chairman John Mica (R-Fla.) and ranking member Nick Rahall (D-W.Va.), along with the Republican chairmen and the Democratic ranking members of the panel's subcommittees.
Graves said that while the $27.5 billion in Obama's jobs proposal would help the nation's economy by funding needed repairs and expansion of roads and bridges, it doesn't solve the real problem.
"For almost two years, we've been playing the dangerous game of passing extension after extension, casting doubt on our ability to undertake significant projects," he said. "While this proposal would help in the short term, if the president wants to foster job creation through infrastructure spending, he should demand Congress pass a well-funded multiyear bill with a focus on core highway programs that address critical regional and national transportation needs."
Graves also said ATA was skeptical of the president's plans for an infrastructure bank and for using increases in other taxes to pay for roads and bridges and other programs in the jobs bill.
"We've long advocated that roads and bridges should be paid for primarily by their users through the most direct taxes possible – fuel taxes," Graves said. "Allowing private capital to take their cut as part of an infrastructure bank, or by taxing other sectors to pay for roads and bridges, takes us further away from this core principle."