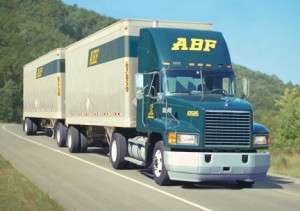 Arkansas Best Corp. on Wednesday, Sept. 21, announced that Wesley Kemp, current president and chief executive officer of its largest subsidiary, ABF Freight System Inc., will retire on Dec. 31. Roy Slagle, ABF's current senior vice president of sales and marketing, will succeed Kemp effective January 1, 2012.
Kemp, 65, has served as president and CEO of ABF since January 2010. Throughout his nearly 43-year career with ABF, beginning as a management trainee in 1969, he continually advanced in ABF leadership positions with increasing responsibility, including regional vice president of operations, vice president of terminal operations, senior vice president of operations, president and chief operating officer and his current position of president and CEO.
"During his ABF career that has spanned more than four decades, Wes Kemp has been an integral part of ABF's transformation from a small LTL carrier with revenues totaling $45 million and service centers in 12 states to a flexible, innovative and full-service LTL carrier with $1.7 billion in revenues and 275 service centers across North America," says Judy McReynolds, Arkansas Best president and CEO. "Wes Kemp is a man of integrity and a true professional. His hard work and dedication to detail have benefited our company during his time here. Wes took over the leadership of ABF in the midst of one of the most severe recessions in our company's history. His patience and guidance during this very difficult time have enabled ABF to return to profitability. We thank Wes for his longtime service to our company, and we wish Wes and his wife, Sharon Ann, much happiness for many years to come as they enjoy more time together."
Slagle, 57, has been in his current position since February 2006. During his 35 years with ABF he also served as vice president administration and treasurer, vice president and treasurer, and regional vice president of sales. Slagle's early years with the company included a variety of field operations positions in Ohio and Pennsylvania. He began his ABF career at the distribution center in Dayton, Ohio,and was the branch manager of ABF's distribution center in Carlisle, Pa., for three years. These are the two largest facilities in the ABF network.
"As a result of the operational, sales, pricing and administrative experiences that Roy Slagle has had during his ABF career, he possesses a comprehensive skill set that uniquely qualifies him to lead ABF into the future," McReynolds says. "Roy's experience in almost every area of ABF, both in field operations and in our corporate headquarters, gives him a strong foundation from which to draw as CEO of ABF. Roy's experience and success in guiding ABF's sales, marketing and pricing efforts during a challenging period in the LTL industry will be important assets as he leads ABF in adjusting to marketplace changes and in being flexible to meet the evolving needs of our customers. In spite of the fact that an experienced leader like Wes Kemp is retiring from our company, I feel comfortable that ABF will be in great hands under Roy's leadership."
Slagle will be succeeded as vice president of sales and marketing by James Keenan, who has been with the corporation for 30 years, currently as vice president of sales. Keenan will have responsibility for execution and administration of ABF's local and corporate sales, marketing and yield management. He also will oversee ABF's advertising and public relations initiatives. Keenan came to ABF with the East Texas Motor Freight acquisition.
In addition, Erin Gattis was named vice president of human resources. Gattis, who has been with Arkansas Best for nearly 13 years, currently serves as chief of staff.