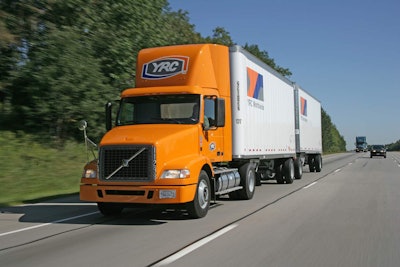 YRC Worldwide Inc. announced that at last week's special meeting of stockholders, stockholders approved the merger agreement between YRC Worldwide and a recently formed wholly-owned subsidiary, YRC Merger Sub Inc., whereby YRC Worldwide is the surviving corporation of the merger. In connection with the merger, the certificate of incorporation of YRC Worldwide was amended and restated to, among other things, increase the number of authorized common shares to 10 billion.
This stockholder approval caused the number of outstanding common shares to increase to about 1.9 billion as compared to the previous level of about 48 million. "This is an important and required step in our restructuring process," says Jamie Pierson, interim chief financial officer of Overland Park, Kan.-based YRC Worldwide. "This merger allows us to increase our authorized common shares to allow for the conversion of our preferred stock issued during the restructuring in July."
YRC Worldwide also confirmed that it has received a notice from NASDAQ stating that the company is subject to delisting since its common stock has traded below a $1.00 share price for more than 30 consecutive trading days. The company received a prior delisting notice due to the issuance of securities without stockholder approval during the July restructuring. YRC Worldwide is currently in an appeal process with NASDAQ to allow it to remain listed on the exchange.
Last July, YRCW successfully completed a restructuring transaction pursuant to which the company issued new convertible notes for the infusion of $100 million in new capital; increased liquidity by replacing the company's existing asset-backed securitization facility with a new three-year $400 million asset-based loan facility; and exchanged a portion of the company's loans and other obligations for new securities, including equity.
"Despite the additional delisting notice from NASDAQ, YRC Worldwide remains confident that the company is well positioned for long-term success," says James Welch, chief executive officer. "We expected to receive this notice due to dilution of our common stock from the restructuring transaction. Our listing status will not affect our ability to provide reliable transportation solutions to our customers."