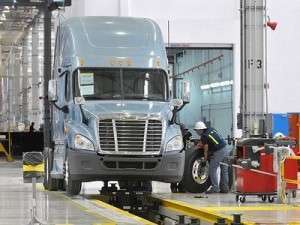 FTR Associates on Wednesday, Oct. 5, released preliminary data showing September Class 8 truck total net orders for all major North American OEMs at 23,465, the second consecutive month of increasing order activity.
Preliminary September orders increased 12 percent over August and are a 56 percent improvement from the same month a year ago. Although orders have improved recently, the annualized order rate for the six-month period through September remains significantly less than earlier this year.
"The orders were at the high end of expectations," says Eric Starks, FTR president. "Given the level of order activity, it appears that truckers are not very concerned about a slowing economy. This is a good sign that things are not falling apart."
Starks says the next three months will set the stage for 2012 as the industry enters traditionally strong order months. "As the shipping season winds down, truckers will assess their position and place orders for delivery late in the first quarter and in the second quarter so that they are prepared for next year's shipping season," he says.