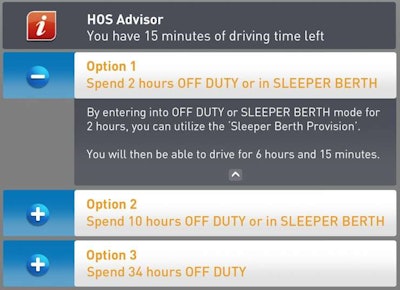 Blue Tree USA, a provider of fleet management, reefer monitoring and trailer tracking solutions, announced the release of HOS Advisor, an electronic hours-of-service program designed to assist drivers in making the best possible decisions to optimize their on-duty time. HOS Advisor, a new feature of Blue Tree's R:Com Fleet Management System, will be provided to fleets at no additional cost.
"Drivers can use the HOS Advisor tool at any time during the day, and it will advise them on 'Drive Time Remaining' and the options available to maximize their driving hours," says Charlie Cahill, chief executive officer of Blue Tree. "Being able to instantly see a list of scenarios – such as 'if you select duty state 'X' for duration 'Y' then this will happen' – really helps drivers decide how to best use their hours. It's like having an HOS expert riding in the passenger seat helping you make the appropriate decisions to best optimize your working day."
HOS Advisor works by first providing drivers with a "current status," such as "You have 0 hours and 15 minutes of driving time left," followed by a few options on how to proceed.
"HOS Advisor removes the need for drivers to perform complex HOS calculations," Cahill says. "Drivers that are already using HOS Advisor are raving about how simple it makes management of their hours. Some drivers have even told us it is like having a safety expert in the cab helping make decisions. We are very pleased with how drivers have responded to the Advisor."