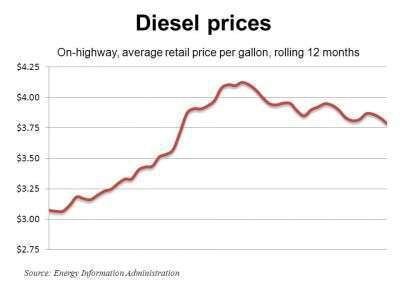 The U.S. average price of a gallon of diesel fuel saw its fifth straight drop during the week ended Monday, Oct. 10, falling 2.8 cents to $3.721, according to the U.S. Department of Energy's Energy Information Administration. That price is 65.5 cents higher than the same week last year. At this point last year, diesel prices were in the fifth week of a general surge that saw prices rise from $2.941 in early September 2010 to a peak of $4.124 in early May 2011.
Prices fell in every region, let by a 4.2-cent drop per gallon in the Gulf Coast region, where prices also were, as is typical, the nation's lowest at $3.651. The smallest decreases were 1.7 cents and 1.8 cents in the West Coast and Rocky Mountain states, respectively. As usual, the nation's most expensive diesel was in California, where prices fell 3 cents last week to $3.977. This was the first time the average price of diesel in California was below $4 since the end of February this year.
Complete diesel price information is available on EIA's Website.