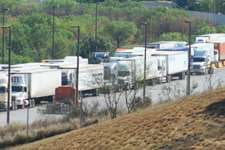 The cross-border pilot program with Mexico officially began Friday, Oct. 14, after officials granted provisional operating authority to the first Mexican carrier participant, Transportes Olympic. In March, Mexico agreed to remove the remaining 50 percent of the $2.4 billion retaliatory tariffs against U.S. agricultural, consumer and other products five days after the program began.
"This is a big win for American farmers and consumers, who will no longer have to struggle with onerous tariffs imposed by Mexico," said U.S. Transportation Secretary Ray LaHood.
The Federal Motor Carrier Safety Administration authorized Transportes Olympic of Monterrey, Nuevo Leon, for two of its trucks and two drivers, according to Mexico's secretary of transportation and communication. The agency responded through the Federal Register to public comment on the carrier's Pre-Authorization Safety Audit, which it conducts on Mexican carrier applicants to verify program compliance.
The Federal Register notice stated that although Grupo Behr of Apodaca, Nuevo León, had cleared its PASA, FMCSA would extend review so that officials could investigate questions raised by groups commenting on the PASA results.
All trucks that participate in the program will carry GPS-capable electronic onboard recorders to monitor trucks and ensure route and hours-of-service compliance.