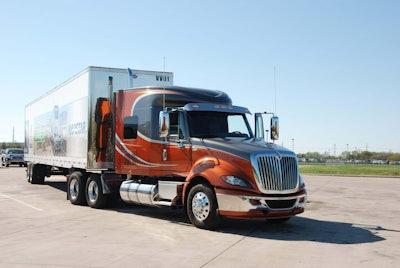 As North American truck fleet executives gathered at the 2011 American Trucking Associations Management Conference & Exhibition in Grapevine, Texas, Navistar showcased several driver-centric features on two of its models – the International ProStar+ and the International TranStar.
"Rebounding freight volume, along with the effects of CSA 2010, have resulted in a growing driver shortage among Class 8 fleets," said Jim Hebe, Navistar senior vice president of North American sales operations. "Customers today are asking us more and more to provide products that will help fleets attract and retain qualified drivers. We believe these product features deliver on that need."
The Class 8 International ProStar+ vehicle showcased at this year's conference features a new Diamond interior trim package design concept, offering diamond-stitched trim on the seats, door panels and throughout the sleeper cab. The aesthetics put a modern twist on the classic "tuck-and-roll" look, but also is designed for maximum durability and easy cleaning. This interior option will be available for order in mid-2012.
Also available to order on the ProStar+ are a premium in-dash GPS system, the MaxxPower Battery Powered HVAC system, the Bendix Wingman Advanced collision mitigation system, the Bendix all-wheel air disc brake package, the Bendix AutoVue lane departure warning system, LED exterior lighting and Fontaine's 12-inch Ultra NT fifth wheel.
As many fleets in the trucking industry are shifting toward Class 8 regional haul applications, Navistar also has upgraded the International TranStar with a premium Eagle interior trim package – the same package currently offered on ProStar+ – featuring premium air-ride seats, a wood-grained dashboard, chrome accents and bezels and an ergonomically-designed "wing panel" over the center console. This interior offers a more premium and more comfortable driving environment for regional haul applications. In addition, TranStar now is available with a new Rand McNally in-dash GPS system with truck-specific map software.
Also showcased is a new commercial-duty Allison TC-10 transmission that will be available for ordering in mid-2012. The transmission is designed to offer seamless shifting through a 10-gear range through the use of a torque converter and twin countershaft design. The TC-10 helps optimize acceleration and eliminate the interruption of power that occurs in manual and automated-manual shifting while increasing safety by offering greater low-speed maneuverability and better traction.
Also available to order on the TranStar are LED exterior lighting and the Bendix Wingman Advanced collision mitigation system.