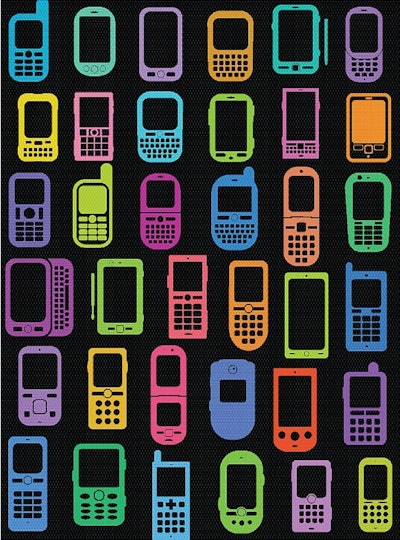 5 ways consumer tech is impacting the trucking industry
While eating dinner at a truckstop, a driver for U.S. Xpress uses an iPhone to select his next load. With corporate connectivity outside the cab, the driver gets his top choice in loads, and U.S. Xpress accelerates its load planning process.
In the cab, U.S. Xpress drivers now are using a Windows-based computing platform with a touchscreen display. Outside the cab, they soon will be using applications or "apps" for their personal smartphones and mobile devices. The Chattanooga, Tenn.-based company also is creating mobile apps for sales, fleet management and customer service.
U.S. Xpress has designed its new apps to be motion-restricted so as to comply with federal and state regulations that prohibit the use of cell phones while driving, says Ken Crane, senior manager of mobility.
The rapid growth of smartphones, tablets and mobile devices has created a tidal wave of new software development aimed at both consumers and businesses. The lines have blurred, and with 24/7 operations and mobile workers, the transportation industry is full of executives, managers and drivers looking for smarter and more efficient ways to get things done.
1. Apps-centered
Next year, Microsoft will roll out Windows 8, a highly anticipated release that will change the way business users interact with office PCs.
"Windows 8 will blur the line between an iPad and a business computer," says Keith Mader, vice president of development for TMW Systems, a provider of enterprise transportation software. By next year, TMW plans to have all its Windows-based software systems running in the new Windows 8 environment. TMW also plans to incorporate the pinch-and-zoom screen technology that comes standard with smartphones and tablets such as the Apple iPad.
In general, today's business applications are more visual and intuitive. Most fleet management systems now incorporate map views of data with quick drill-down and smart drag-and-drop features. When viewing dispatch data on a map view, a fleet planner could see locations of customers, loads and equipment. Clicking an icon displays more detailed information with drill-down capabilities to see specific pickup-and-delivery times and real-time hours-of-service status for drivers.
2. The mobile executive
Software developers in the trucking industry see untapped potential for filling a void for information beyond the realm of the office and the cab. Today's mobile fleet executives and managers want to access more than corporate e-mail and Websites.
McLeod Software last year released a smartphone application to give its trucking and brokerage customers access to the information within the LoadMaster and Powerbroker enterprise software systems.
Todd Collins, president of RT&T Group, a truckload carrier based in East Dubuque, Ill., uses the McLeod Smartphone app on his Apple iPad. Collins says the app is an effective sales tool to find customer contact information quickly and look up orders and movements while he is away from the office. McLeod plans to continue adding more functionality to the app, including real-time alerts, key performance indicators and the ability to respond to driver messages sent from in-cab computers.
TMW Systems is working on developing new tools for mobile fleet managers and executives for any type of mobile device. The company recently designed a mobile version of its Web-based E-Stat order tracking tool for customer self-service. E-Stat Mobile gives carriers and brokers a platform to allow their customers to track orders and create reports directly from a smartphone. Using a tab-style interface, E-Stat Mobile users can select and customize reports and use pinch-and-zoom and scroll features to drill down into details.
"The ability to deliver on any platform is less important than the functionality, which includes how a user drills down and navigates through the data," says David Wangler, chief executive officer of TMW Systems.
Literally, any mobile device with Internet connectivity can become a mobile office. Today's Web-based fleet management systems are highly flexible and configurable to enable users to find and manage information from any device.
PeopleNet, a provider of integrated onboard computing and mobile communications, redesigned its new workflow-centric Web interface, PeopleNet Fleet Manager, to present information to users based on their assigned roles within a company. When a safety manager logs in, the system can be preconfigured to show only the drivers, violations and exceptions related to the manager's role. PeopleNet Fleet Manager also can assign tasks to users based on exceptions that occur, says Brian McLaughlin, chief operating officer.
Blue Tree, a provider of trailer tracking, reefer monitoring and fleet management systems, has a Web-based interface that shows quick summary reports with extensive drill-down capabilities. Starting with a mpg report, a fleet manager could drill down to see idle time of each truck by location and see the engine rpms of individual drivers. The rpms are displayed in color-coded histograms to allow for quick analysis of driver performance by showing a comparison to the optimal torque range for specific engine makes and models.
A user also can drill down to audit fuel usage by comparing actual fuel burned versus the fuel purchased. "We go the extra yard to tell you what is happening," says Charlie Cahill, president of Blue Tree. "It allows you to question and drill down into details immediately. It's like microsurgery."
3. Pulling from the cloud
With business users becoming more mobile, many technology providers are touting the advantages of the Software-as-a-Service deployment model. One reason fleets are choosing SaaS is to have subscription-based pricing, which generally is more economical than installing and upgrading hardware and software internally. Software is updated immediately rather than on a scheduled basis; customers no longer have to evaluate the pros and cons of upgrading to the latest version.
SaaS often is called cloud computing because data storage and processing takes place on remote servers rather than local devices. For mobile applications, the SaaS model already has become the standard since fleets are demanding more flexibility in their hardware and software investments.
The Xata Turnpike fleet management system, which can operate on more than 35 mobile devices, includes electronic logs, driver vehicle inspection reports and engine monitoring applications. The system connects to the vehicle and mobile handsets through a small wireless Bluetooth-compatible device. For fleets that want additional proof-of-delivery and messaging applications, third-party applications from AirClic, BlackBay and Cheetah Software, among others, can be loaded onto the same mobile devices.
To make the adoption of electronic logs and other technologies more cost-effective, Xata Turnpike can leverage the same BlackBerry and Android mobile devices that drivers already may have for personal use. Installing software such as Zoomsafer onto these mobile devices can ensure business applications remain locked while a vehicle is in motion.
Teletrac, which provides a wireless fleet management system, plans to develop an Android version of its Fleet Director in-cab computing and communications system. Adding new features and apps such as a credit-card swiper or signature capture can be done quickly and easily, says Jeff Diffy, business development manager.
The 'consumerization' of IT has spread to the transportation industry and changed how people get things done forever.
Qualcomm soon will release a cost-effective safety- and compliance-focused onboard system called the Mobile Computing Platform 50 (MCP50) that can use the same Web-based applications available on its other MCP product lines. Qualcomm also is planning a smartphone app focused on safety and compliance features, including electronic logs, says Norm Ellis, vice president of sales, services and marketing for Qualcomm Enterprise Services.
One misconception of SaaS is that consumer devices such as the iPhone and Android can withstand all the vibration, temperature and dust in a mobile environment. Fleets generally prefer commercial-grade hardware and to use one vendor for all hardware, software and networking so that any problem can be resolved quickly rather than watch two or more vendors point fingers, McLaughlin says.
4. Catering to drivers
Today's onboard computing platforms are incorporating the latest trends in consumer and business software development. An area of emphasis is improving the flow of information in the cab and the user experience for drivers. Developers are taking full advantage of the latest graphics, computing power and screen features to move drivers through their daily workflow.
Starting from the time a driver clocks in, apps can guide him from one work assignment to the next. First, a pretrip inspection form pops up automatically. When the driver completes it, another form prompts the driver to enter a duty change for hours of service and specific information for an arrival or departure event.
PeopleNet plans to release a new automated workflow interface for its BLU and Tablet onboard computing platforms. The graphical Windows interface now is being designed to prompt drivers to enter information at the proper time and not allow other applications to be opened before they complete the assigned task.
Rand McNally recently released a driver-centric onboard computing platform called the TND 760 Fleet Edition that includes a full touchscreen computer display with a consumer form factor similar to the Samsung Galaxy tablet. From the home screen, drivers select icons to enter hours of service, navigation, messaging apps and driver/vehicle performance monitoring.
Fleets also can leverage a number of mobile apps designed specifically for drivers' personal smartphone devices. "Everybody is moving to a smartphone," says Mitch Hixon, vice president of sales for Affiliated Computer Services, which offers TripPak Mobile as a free download for smartphones. The mobile app includes a document capture feature that allows drivers to capture paper POD documents using their smartphone camera. The images are sent to ACS TripPak Services for processing and integrated with carrier dispatch systems.
ACS has begun another round of development for TripPak Mobile to guarantee image quality. Hixon predicts that mobile scanning quickly will become the most prevalent way carriers retrieve documents from their drivers. "There are no barriers to aggressive adoption," he says.
Pegasus TransTech, a provider of document management software, recently began offering smartphone scanning. Currently available as a free download for the iPhone, the software recognizes the edges of a document and adjusts, sharpens and converts images to black and white. The software's automatic photo-editing ensures that a quality image is transmitted to the office for processing, the company says.
PCS Software offers a GPS and driver communication app for the iPhone called Mobile Xpress Trax. The app integrates with the PCS Xpress transportation management system through three interfaces created for truckload, less-than-truckload and intermodal operations.
Through the LTL interface, drivers can receive an entire trip manifest on a smartphone, mark each stop completed and capture delivery signatures. With the intermodal interface, drivers can receive instructions for where to pick up or terminate containers and chassis. They also can record equipment numbers at pickup and termination points to update location and per-diem tracking instantly in the PCS Xpress transportation management system, says Sean VanDyk, vice president of sales.
The Mobile Xpress Trax app also has an option to capture POD documents using the iPhone camera with no per-document fees.
5. Virtual assistance
In addition to leveraging the latest apps and technology to improve the efficiency of drivers and fleet managers, carriers can use new services designed to keep their assets running at peak performance.
In the consumer space, auto manufacturers have been using telematics to offer virtual vehicle support networks for several years. Heavy-duty truck manufacturers recently have started offering the same type of self-diagnosing vehicle telematics with proactive customer support and service networks.
Volvo Trucks has offered the Volvo Link Sentry service for all new vehicles since 2007. The service uses an onboard system that monitors a truck's systems and fault codes continuously and sends that data automatically via satellite to Volvo Action Service. For fault codes that require immediate attention, a technician will contact the fleet owner or driver to schedule repairs.
In August, Zonar Systems announced a strategic agreement with Daimler Trucks North America to provide DTNA's Virtual Technician, a real-time remote diagnostic system that comes as standard equipment on model year 2012 Freightliner vehicles equipped with Detroit Diesel engines.
Developed by Zonar, the Virtual Technician transmits real-time engine diagnostics with vehicle performance indicators to the Detroit Diesel Customer Support Center. The support center then communicates proactively with fleets and vehicle owners regarding potential performance issues and to schedule any necessary service if needed.
To see Virtual Technician data, fleet customers can upgrade to a visibility package, the Zonar Ground Traffic Control system, that includes GPS tracking and other fleet management tools. Chris Oliver, vice president of marketing for Zonar, says the company already has added 15,000 units to its subscription base through the DTNA agreement.
Paccar now offers an optional in-cab navigation system branded as SmartNav for Peterbilt and NavPlus for Kenworth. The system includes virtual engine gauges on the dash-mounted touchscreen display.
In September, Paccar Parts announced TruckerLink, a fleet management system that collects location and performance data from the vehicle's electronic J1939 databus. TruckerLink uses dual-mode GSM and CDMA wireless networks to send real-time status information to the TruckerLink Fleet Website, including engine performance and driver hours-of-service and vehicle inspection reports.
TruckerLink is available now as an add-on; its mobile applications run on Windows laptops and notebooks. It soon will be offered as a built-in option using the same display as the navigation systems, says Tony McQuarry, general sales manager for Paccar Parts.
The term "legacy" often is used to describe a business system that works but no longer is capable of keeping up with the demands of today's environment. What the "consumerization" of IT really brings to the transportation industry is the ability to replace legacy systems more easily and cost-effectively with cutting-edge apps that provide an immediate return on investment.