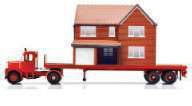 Today's truck cab designs combine science, art
Most truck drivers don't give truck cabs much thought – which is strange given that's where many drivers spend up to 11 hours a day behind the wheel, then another 8 to 12 hours resting, relaxing and sleeping.
It's a testament to how well most truck cabs are designed today that they generally don't generate much comment – unless something in the cab is wrong, such as a hard-to-reach switch. Or a seat that never seems to give the driver's lower back any peace. Or a step that's just a little too high to reach comfortably when climbing in and out of the cab.
Those are the things that stand out in drivers' minds when they think about the small spaces where they drive, work and live.
But consider for a moment the extreme demands placed upon the engineers who design these confined living and working spaces – and the many different functions a truck cab has and all things required for it to be an effective, comfortable and productive workplace and rest station.
Design engineers must juggle often conflicting criteria that architects never would face, such as exterior visibility, ergonomic demands, entry and exit, crashworthiness, engine noise, road vibration, climate control and weight restrictions – all designed into components that may be used in a multitude of differing vehicle models and applications and must be able to endure a million miles or more of use and abuse. It's a daunting task, to say the least. On top of all that, cab design is not static; changing vehicle requirements, fashion trends and technological advancements further complicate designers' jobs.
American sleeper compartments have been known to inspire awe in drivers around the world, who often must make do on a narrow shelf crammed behind the driver and passenger seats. But some manufacturers think the age of the grand suite sleeper may be coming to an end – due mostly to the changing demands of the industry they serve.
"Routes are getting shorter than they used to be, but there's still a segment out there that's going to go out for three or four weeks at a time," says Landon Sproull, chief engineer for Peterbilt. Those are the fleets that are going to place more value on a bigger sleeper box. "But with these shorter routes where you've got drivers at home – if not every night, every other night – we're seeing a trend toward shorter sleeper boxes."
But no matter how tall or small the back of the cab gets in the coming years, trucks are first and foremost machines designed to deliver the goods that society needs day in and day out. And the ability to do that job starts up front with a safe, comfortable driver's station.
Ergonomic environments
While ergonomics play a role in almost every aspect of vehicle configuration – from the placement of the oil dipstick to the angle of the fill cap on the fuel tank – the driver's station is ground zero for high-intensity design.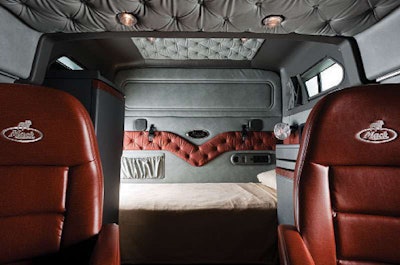 "Ergonomics is challenging because you're trying to cover a wide range of customer base," says Brian Balicki, senior industrial designer for Volvo Trucks North America. "Keep in mind that a driver today could be a 4-foot 8-inch mother or a 6-foot 7-inch former wrestler. So it's sometimes hard to accommodate the physicality of the customer."
There's a wide range of function and motion that goes on with the driver: He or she has to access several switches at a time, brake levers have to be calculated for the foot's angle, and the seat needs to have a huge adjustment range to ensure comfort, perhaps for several drivers using the same truck. "Just trying to accommodate all those requirements is difficult," says Balicki.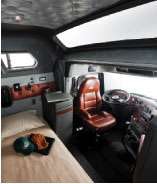 "People are big and getting bigger, and as a result, cabs feel smaller and smaller," says Kary Schaefer, chief engineer of cab engineering for Daimler Trucks North America. As the average U.S. driver gets older and larger, maneuvering in truck cabs becomes more difficult, and the strength of all parts – handles, seats, floors, etc. – has to increase. This translates into higher vehicle weight and cost, which must be offset by new innovations in materials and design.
Form, fit and function all play a role in cab designs.
Because the driver environment has to accommodate a wide population demographic while meeting a variety of operational requirements, engineers use market research, industry data, driver surveys and technical trends when updating current products and creating new design concepts.
Careful detail must be paid to the interior layout in order to optimize the roominess, comfort and storage options inside the cab. Switches, gauges and controls have to be placed carefully to ensure optimal reach and visibility. Designs need to be simple. "Fewer fasteners and fewer pieces in the assembly mean less buzz, squeak and rattle, plus better fit and finish," Schaefer says.
A comfortable driver environment helps prevent fatigue while enhancing safer, productive vehicle operation. "We've done extensive research with our customers to understand what features matter most," says Jerry Warmkessel, product manager of highway trucks for Mack, which conducts customer clinics in mock cabs to ensure the company is on the right track. "These clinics have told us for decades that drivers feel strongly the seat is the most important feature in the cab, so we offer many different seat choices to help meet that demand today."
While the U.S. market is making big strides in improving the ride condition and feel of truck seats, European manufacturers are doing a better job, Schaefer says. "Back support and ventilation are areas where things will change in the future," he says. "We've already moved to wider cushions for larger drivers, with structural support to withstand larger U.S. drivers."
On top of all those demands, the driver's seat also doubles as an office. "I think in the future, what we're going to see is more of that combination of using that area even more than we do now for the times when the truck is not moving," says Frank Bio, product manager, trucks for Volvo Trucks North America. Volvo already is addressing those demands with its swivel seats. "I think you'll see dedicated office stations incorporated into future cab and sleeper designs," Bio says.
Other intangible aspects also must be worked into an effective cab design. "You really have to be true to the brand," Bio says. "When a customer or a driver slides behind the wheel of a new truck, we want them to know instantly that they're in a Volvo just by looking around or listening to what's going on in the cab or how it feels when you're driving. That's really a part of this whole puzzle that I think the designers have their biggest challenge with."
A place to lay your head
Priorities for sleepers may change slightly, but the design focus is just as intense for truck manufacturers: to create a living space – a home away from home – for drivers while meeting unforgiving standards on weight, safety and size.
"Drivers treat sleeper cabs more like their homes," Schaefer says. "They want all the same amenities of their house in a smaller space, though in some cases, the sleeper cab may be their home or be better than their home." Schaefer says that for many drivers, sleeper design is as important as the design of their cockpit. "We all know a better night's sleep leads to a more productive and safer day's work."
Those goals are unwavering regardless of truck manufacturer – and so are the challenges they all face in creating these mobile living spaces. "If the driver is able to rest on a comfortable and familiar mattress, if the space can be made dark enough while sleeping, and if the temperature of the sleeping compartment can remain at a comfortable level, then we're convinced the result will be a better, safer driver the next day," Schaefer says.
Sleeper spaces that also include conveniences like TV, a refrigerator, a microwave and soft lighting help contribute to better rest and sleep.
For the sleeper, it's critical that high-quality mattresses are sized appropriately for the driver. Other important features include light switches that are easy to find and operate in the dark, easy-to-operate HVAC controls, evenly distributed warm or cool air, a power inverter so that drivers can use typical hotel loads, conveniently located duplex receptacles, an emergency exit door in the event of a thermal event in the cab area, and as much storage as physically possible given the size of the sleeper.
As important as overall comfort in a sleeper cab is a trendy design.
Warmkessel says it's also important to provide adequate soft lighting. "Drivers like to see what they're doing, but without harsh lighting, which is why we're seeing a trend now toward indirect lighting, which seems to meet both needs," he says.
It's also important to insulate the sleeper to maintain the desired temperature inside while minimizing noise intrusion. "The question is really what level of material you use, because there is a weight penalty, which directly affects fuel economy," says David Allendorph, Navistar's director of innovation and design. "We need to make certain we have the best optimization when we use these materials."
Louis Caballero, Navistar's chief engineer of body interiors, says it takes a joint effort by all of the company's design groups to improve the cab environment. "Cutting down on wind noise is a highly effective way to decrease driver fatigue," Caballero says. "If you don't generate the noise in the first place, you don't have to put insulating material in the truck to block it."
Caballero's team works closely with Navistar's exterior design group to develop exterior vehicle shapes that cut through the air efficiently, which also helps eliminate wind noise. "The same principle holds true when we work with our chassis design group to reduce powertrain vibrations and keep them from coming up into the cab or through the steering wheel," he says. "If you can eliminate these vibrations at the source, you don't have to pay the weight and cost penalty of adding materials to deaden those vibrations when the truck is on the road."
As important as overall comfort is a trendy design. Take off a blindfold in any truck, and odds are a driver can tell at a glance what decade the vehicle was manufactured. "You have to stay on top of the latest trends to keep your interiors up to date," Sproull says. Peterbilt's interior experts visit automotive and consumer shows and conduct studies on trends such as colors, textures, wood grains and brushed aluminums.
"We'll go to Ikea and look at how they might configure a small office," Sproull says. "We'll go look at an RV or a corporate jet for some ideas on how people design and use space. We'll take some of those ideas, integrate them into our interior designs, and then try to figure out how to maximize the storage space in the confines of an up-cab and sleeper."