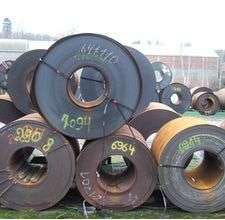 The American Iron and Steel Institute reported that the United States imported a total of 2,107,000 net tons of steel in November (down 10 percent), including 1,646,000 NT of finished steel (down 13 percent) vs. the October final data.
Annualized total and finished steel imports in 2011 would be 28.8 and 22.1 million NT, respectively, up 21 percent and 17 percent vs. 2010. Finished steel import market share in November was an estimated 20 percent and is 22 percent year to date.
Key finished steel products with significant import increases in November 2011 compared to October include plates in coils (up 15 percent) and reinforcing bars (up 10 percent).
Major products with significant YTD import increases vs. the same period last year include cut length plates (up 61 percent), plates in coils (up 37 percent), line pipe (up 31 percent), hot rolled bar (up 28 percent) and oil country goods (up 22 percent).