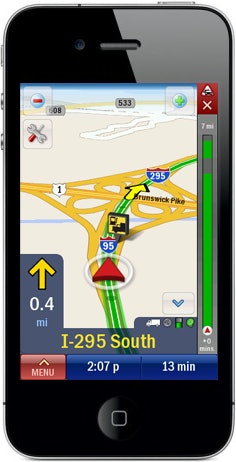 ALK Technologies Inc., a developer of geologistics software and data products, announced that it has entered into a partnership with International Telematics Corp. International Telematics will resell ALK's CoPilot Truck Professional navigation software in North America, fully integrated with its ibright vehicle and trailer telematics system designed to offer operators an advanced but easy-to-use fully converged monitoring and management tool for tractors, straight trucks, dry trailers, refrigerated trailers and other assets on one single platform.
ALK's CoPilot Truck Professional is designed to provide truck-specific GPS navigation, offering an intuitive interface with spoken turn-by-turn directions and nondistracting guidance displays. It is designed to calculate efficient truck routing based on vehicle profile information, routing parameters and load type, including hazardous materials.
The companies say CoPilot Truck Professional operates on the wide range of in-vehicle mobile display terminals, both tethered and portable, that are used in conjunction with the ibright telematics computer. Information from third-party routing and dispatch platforms, integrated into the ibright Enterprise platform, allow dynamic routing and manifest information to be sent to the vehicle, the companies say.
"ALK Technologies is pleased to welcome International Telematics as a reseller of CoPilot Truck Professional," says Dan Popkin, vice president of business development, Enterprise Solutions Worldwide, for ALK Technologies. "This global partnership reflects our continuing commitment to the cross-platform integration of navigation technology with mobile work force management and telematics solutions."
"International Telematics is delighted to have integrated the ibright telematics solution with CoPilot Truck Professional," says Craig Marris, executive vice president of International Telematics. "Our customers now have a platform that combines one of the most advanced telematics technologies with the most advanced trucking-attribute navigation system available. Integrating ALK's CoPilot Truck Professional introduces more operational visibility and intelligence in the vehicle, allowing International Telematics to provide superior returns for our customers."