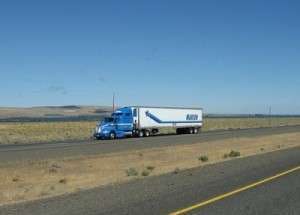 Marten Transport on Tuesday, Jan. 24, reported net income of $7.7 million for the fourth quarter ended Dec. 31, a 47.1 percent increase from $5.2 million a year earlier and the highest net income for any quarter in the company's history.
It was the Mondovi, Wis.-based company's seventh consecutive year-over-year increase in quarterly profitability. For 2011, net income increased 23.0 percent to $24.3 million compared with $19.7 million in 2010.
Operating revenue, consisting of revenue from truckload and logistics operations, increased 15.9 percent to $158.3 million in the fourth quarter from $136.6 million. For 2011, operating revenue increased 16.8 percent to $603.7 million from $516.9 million.
Operating revenue, net of fuel surcharges, increased 11.3 percent to $128.8 million in the fourth quarter from $115.8 million and increased 11.3 percent to $490.7 million in 2011 from $441.0 million.
Operating expenses as a percentage of operating revenue, with both amounts net of fuel surcharge revenue, improved to 89.9 percent for the fourth quarter from 92.2 percent and improved to 91.2 percent for 2011 from 92.0 percent.
"We are pleased that our long-term strategic planning is driving our continued profitability growth," said Randolph Marten, chairman and chief executive officer. "Over the past year, we have emphasized developing a diverse customer base that gains value from and expands each of our operating units."