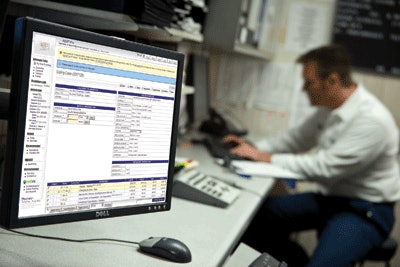 Volvo Trucks on Tuesday, Feb. 21, announced its new aftermarket offering – Volvo Trucks Support Services – designed to provide U.S. and Canada fleets with custom solutions to help maximize the performance of their transport operations.
"The initial purchase of Volvo highway or vocational trucks is just the first step in the Volvo experience," says Ron Huibers, president of Volvo Trucks North American sales and marketing. "Volvo Trucks Support Services will simplify ownership and improve efficiency and flexibility within an operation."
"Bundling truck support services can help protect assets, improve operational efficiency, offer a 'one-stop shop' for service and parts information and provides the fleet options to manage costs," says David Pardue, Volvo Trucks vice president of aftermarket solutions. "Volvo Trucks Support Services provides all of these advantages while simplifying truck operation and maintenance."
The Support Services package includes:
• Bundled roadside protection at no charge. Volvo Trucks Support Services now offers bundled roadside protection service on all vehicles at no charge during the life of the vehicle's base two-year or extended warranty.
Customers can initiate a repair event online or over the phone; they also have the ability to go directly to a dealer or through Volvo Action Service – 24/7 roadside support, available at 800-528-6586 – for assistance. Once initiated, customers can manage their repair with the Web-based ASIST tool, a real-time fleet service management platform that connects communications among the customer, Volvo Trucks dealer and Volvo Action Service;
• Service management. Volvo Trucks now will offer ASIST, its Web-based service management tool, at no charge to customers who purchase a new Volvo truck. ASIST lets customers receive electronic estimates, approve repairs and issue a purchase order, regardless of the vehicle's location. The online tool allows the customer to monitor vehicle status online, communicate directly with the dealer and maintain an electronic "file cabinet" of service activities. According to Volvo, consolidating all maintenance events and communication in one Web-based tool also eliminates invoice and repair surprises;
• Asset Protection. Through Volvo Trucks Support Services, Volvo customers can purchase extended warranty coverage for both engines and chassis. Asset protection tools allow customers to load custom preventive maintenance and inspection guidelines or follow a preventive maintenance and inspection program already purchased from a Volvo dealer. Additionally, Compliance, Safety, Accountability inspection checklists are available online to provide complete information and vehicle history;
• Parts purchasing. Volvo customers can order parts online through their local dealer. The online portal provides 24/7 access to parts availability and pricing from the local Volvo dealer. Customers can look up and order parts from a variety of VIN-specific or aftermarket catalogs, access their purchase history or select copies of invoices online. In addition, customers can receive nationwide credit access at more than 300 Volvo dealer locations in the United States and Canada through the company's charge card program; and
• Fleet solutions.
In addition to 24/7 roadside assistance through Volvo Action Services, the Volvo Trucks Support Services program offers full contract maintenance services and a variety of leasing and rental program options.