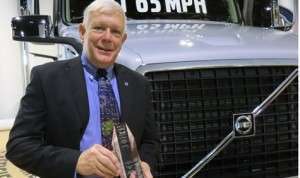 The Truck Writers of North America have recognized the Volvo XE13 powertrain package as the top technical achievement for 2011. The award presentation took place at the Technology & Maintenance Council's Annual Meeting and Transportation Technology Exhibition.
"It's an incredible honor to be recognized by the Truck Writers of North America," said Ron Huibers, president of Volvo Trucks North American sales and marketing. "We truly appreciate their thorough evaluations of our XE13 package, a proprietary solution that provides just a glimpse at the future potential of Volvo Trucks' integrated powertrain."
To be eligible for the Technical Achievement Award, a product or service has to clearly exhibit technical innovation, have a wide applicability in the trucking industry, offer significant benefits and be widely available. While complete vehicles are not eligible, components and systems are.
The other five finalists for 2011 were the Bendix EverSure spring brake, the Fontaine/Volvo integrated fifth wheel, Goodyear's G392 SSD/SST DuraSeal wide-base tires, RigDig's Truck History Reports and Spectra's Hub Alert.
The XE13 (exceptional efficiency) package introduces the concept of "downspeeding," by combining a set of specifications – including Volvo's I-Shift automated manual transmission – that collectively allow the engine to run about 200 rpm slower than the average truck sold today, the company says. That translates to a fuel savings of about 3 percent compared to a similarly specified truck with an overdrive transmission, according to Volvo.
"The benefits of 'downspeeding' an engine are intuitive – lower engine rpm results in less fuel consumed – but virtually impossible to achieve without a perfectly harmonized powertrain," said Ed Saxman, Volvo Trucks product manager – powertrain, accepting the award. "The intelligence of the Volvo I-Shift and proprietary software used in the XE13 package has created an incredible paradigm shift, so we now see the transmission controlling the engine."
TWNA award committee member John Baxter said the XE13 concept "represents a sea change in thinking as far as how the drivetrain is to be put together and could also drive a serious shift to automated transmissions in the future. It will certainly help to squeeze more energy out of each gallon of fuel."
This year marks the 21st anniversary of the Technical Achievement Award. The first Technical Achievement Award was presented in 1991 to Grote Industries for its red LED marker light. Since receiving the inaugural award, Grote has sponsored the annual trophy.