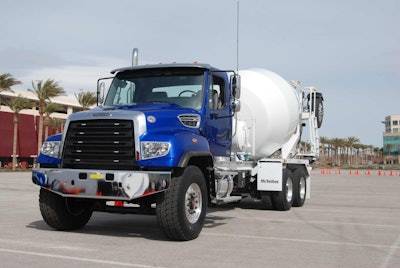 Daimler Trucks North America on Thursday, Feb. 23, announced that the U.S. Environmental Protection Agency has certified its complete portfolio of model year 2013 on-highway, vocational and medium- duty vehicles as fully compliant with the new greenhouse gas 2014 regulations.
DTNA says its GHG14 compliance has been achieved one full year ahead of the mandate for certification by EPA's and the National Highway Traffic Safety Administration's first-ever program to reduce heavy- and medium-duty truck GHG emissions. Under the new GHG14 regulations, trucks and buses built in 2014 through 2018 are projected to reduce oil consumption by 530 million barrels and greenhouse gas emissions by 270 million metric tons.
DTNA says it continues to work closely with the EPA and NHTSA in the development of new regulations. "DTNA is committed to working with EPA and NHTSA to address critical issues facing the United States such as greenhouse gas reduction, as well as dependence on foreign oil," says Martin Daum, DTNA president and chief executive officer. "Early compliance with GHG14 regulations is clear evidence of DTNA's strategic plan to demonstrate leadership in fuel efficiency and reduced emissions well in advance of any regulatory deadlines."
NHTSA and EPA designed the GHG14 standards to address global climate change, as well as to improve fuel efficiency, thereby reducing oil consumption. The effect of these actions will be to improve energy security, increase fuel savings, reduce GHG emissions and provide regulatory certainty for manufacturers. The agencies developed these rules in collaboration under their respective authorities: EPA designed the GHG standard under the Clean Air Act, and NHTSA included the fuel efficiency standard as a part of the Energy Independence and Security Act.