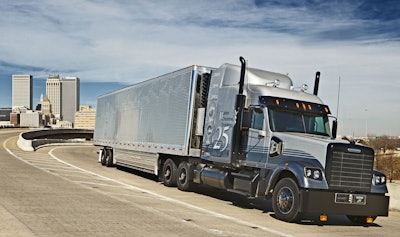 Freightliner Trucks recently helped longtime customer John Christner Trucking mark its 25th anniversary with a tricked-out Freightliner Coronado. The truck was presented to company founder John Christner during a recent celebration event at the Tulsa Convention Center.
Headquartered in Sapulpa, Okla., JCT is a refrigerated truckload carrier that hauls protein, produce and dairy products for the food industry. The first truck JCT purchased was a Freightliner Classic; today, there are more than 330 Freightliner trucks in its fleet.
"Over the last 25 years, Freightliner Trucks has continued to develop the right solutions to fit our changing needs," says Daniel Christner, vice president and chief operating officer of John Christner Trucking. "They are a partner in every sense of the word, and we were thrilled to have Freightliner as part of our anniversary celebration."
To mark the milestone, executives at JCT worked with Freightliner Trucks and ATC Freightliner in Tulsa, Okla., to develop a specially designed Coronado. The exterior features a distinctive silver paint job with a 25-year timeline on the side of the cab. JCT's signature green and blue diamond logo is showcased on the exhaust, and chrome accents complete the look.
"The strength of our relationship with Freightliner Trucks and ATC Freightliner culminated in the creation of this Coronado," says Christner. "As they always have, the team worked closely with us every step of the way and truly exceeded all of our expectations."
The JCT team also built a 60-foot wide replica of the Freightliner Cascadia dashboard for the anniversary celebration's stage that included to-scale gauges, switches and steering column. The celebration also included a surprise presentation to John Christner: Two new motorcycles customized by Orange County Choppers – one modeled after a 1968 White Freightliner truck, the other a sleek futuristic chopper representing the aerodynamic Cascadia.