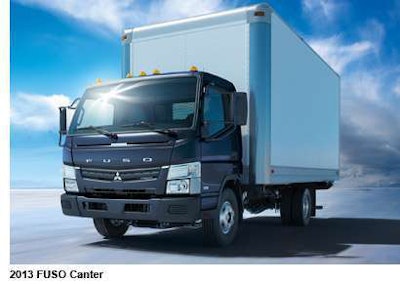 Mitsubishi Fuso Truck of America on Friday, March 9, announced the availability of its 2013 model-year medium-duty cabover trucks. The new 2013 Fuso Canters are in production now, and the first models were displayed in the Mitsubishi Fuso booth at this week's NTEA Work Truck Show in Indianapolis. The company says the 2013 trucks feature the same lower-cost-of-ownership benefits as the 2012 models with additional refinements and options.
In addition to the five cab colors MFTA traditionally has offered, the 2013 Canters can be ordered in solid black, which helps give the trucks a striking appearance and can save customers from having to paint the cabs to match their company colors, the company says.
All new 2013 Canters will come standard with dual batteries and also will include a factory-installed PTO wiring harness designed to receive an optional, matched control switch and to make connection to optional PTOs easier.
Moreover, a 33-gallon side-mounted fuel tank once again will be available as a factory-installed option, and mirrors will have new wider mounting arms that facilitate the installation of bodies with outside widths up to 102 inches on all Canter FE models, including the Canter FE160 Crew Cab.