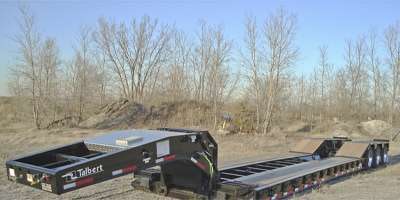 Talbert Manufacturing's 50CC/RP Hybrid trailer is designed to combine the benefits of a close couple lowbed design with a roller paver model, offering a longer loading incline and added lift capacity to haul a greater range of equipment such as loaders, excavators, rollers and pavers. The specialty design – with a deck length of 26 feet – also is suited for general construction, grading, excavation and pavement.
The design slopes from the bottom up to create a more moderate incline over a greater distance, about a third of the deck length. The trailer also features a bolt-on ramp to provide a more gradual load angle at the rear – 15 degrees rather than the standard 35-degree angle. The 50-ton capacity 50CC/RP Hybrid offers a deck width of 8 feet 6 inches and a low deck height of 20 inches.
The nonground-bearing hydraulic gooseneck trailer has an air ride suspension for a smoother ride and features three axles with a fourth-axle pin-on configuration; axle capacity is 25,000 pounds each. Other standard features include rear-loading fenders, LED lights, strobes and battery backup.