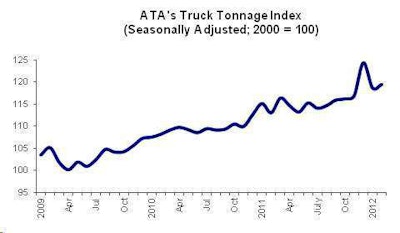 The American Trucking Associations on Tuesday, March 27, announced that its advanced seasonally adjusted For-Hire Truck Tonnage Index rose 0.5 percent in February after falling 4.6 percent in January. The latest gain put the adjusted index at 119.3, up from January's level of 118.7. Compared with February 2011, the adjusted index was up 5.5 percent, better than January's 3.1 percent increase.
The nonadjusted index, which represents the change in tonnage actually hauled by the fleets before any seasonal adjustment, equaled 112.9 in February, which was 1.3 percent above the previous month.
"Fleets told us that February was decent, and that played out in the numbers," said Bob Costello, ATA chief economist, who noted that February's month-to-month increase was the sixth in the last seven months. "I'm still expecting continued truck tonnage growth going forward," Costello said. "Rising manufacturing activity and temperate consumer spending should be helped a little from an improving housing market."
ATA calculates the tonnage index based on surveys from its membership. The report includes month-to-month and year-over-year results, relevant economic comparisons and key financial indicators. The baseline year is 2000.