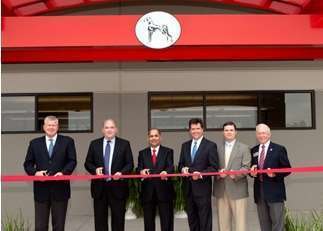 Little more than a year after breaking ground on its new refrigerated trailer manufacturing plant in Statesboro, Ga., Great Dane opened the facility for production on Tuesday, April 3, following a ribbon-cutting ceremony. The manufacturing site hosted dignitaries from the state and local community, area business leaders, company executives and media representatives prior to the official opening.
"We are thrilled to finally open the doors of our brand new production facility here in Statesboro," said Bill Crown, president and chief executive officer. "This building reflects the diligence and focus of countless individuals over the past two years, working together toward this day in some of the most difficult economic times we can remember. Just as Great Dane has set the standard for excellence with our products over the past century, this plant sets a new standard for cutting-edge manufacturing and efficiency. We are proud that it will serve as a model of the most technologically advanced, environmentally sound production practices in the world."
Great Dane's state-of-the-art plant encompasses 450,000 square feet, including office space and a 3,000-square-foot climate-controlled noise-free customer preview center. The new facility is dedicated to manufacturing the company's all-new Everest refrigerated trailers, the TL model reefer for truckload carriers and the CL model reefer built for multitemp and foodservice operations, especially those in the Southeast.
Joining a network of seven other strategically located Great Dane manufacturing plants, the Statesboro facility was designed and built to be among the world's most modern and efficient. Breakthrough technologies incorporated include the use of robotic welding, automated production processes, computer-controlled foaming operations and an optimized material handling system for quality and efficiency. In accordance with Great Dane's pledge to keep its environmental impact as low as possible, numerous green initiatives have been put in place, including energy-efficient lighting and the use of a building management system to automatically control lights, air quality and building temperature; programs to reduce water consumption; and the use of load monitors to ensure optimal energy consumption.
The facility is located on 118 acres in Bulloch County, 50 miles from the company's roots in Savannah, Ga. The location was selected for a variety of reasons, including its economy. The plant will bring more than 400 jobs to the area. "I am honored to lead the team here in Statesboro and to be a part of the century-old tradition of building the best trailers in the trucking industry," said Kevin Black, plant manager. "It's been rewarding to be a part of the startup process, partnering with members of the community, the city of Statesboro and Bulloch County to get staff hired and trained and ready to work."
The Statesboro plant will begin operating with one production line, with a second line and second shift to start up later in the year. At full capacity, the new facility will be able to produce more than 5,000 trailers annually, and Crown said he is optimistic about reaching this capacity quickly and about the future. "The opening of this site not only demonstrates Great Dane's confidence in American manufacturing, but it reinforces our commitment to our customers, our dedication to our work force and our firm belief that our products are the very best in the industry," he said.