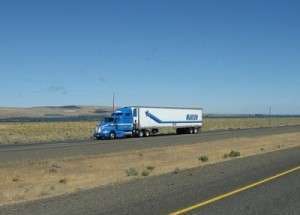 Marten Transport on Tuesday, April 17, reported a 33 percent increase in net income to $5.4 million for the first quarter ended March 31 from $4.1 million for the first quarter of 2011. It was the Mondovi, Wis.-based company's eighth consecutive year-over-year increase in quarterly profitability.
Operating revenue, consisting of revenue from truckload and logistics operations, increased to $151.5 million from $137.9 million. Operating revenue, net of fuel surcharges, increased 9 percent to $122.6 million from $112.5 million. Fuel surcharge revenue increased to $28.8 million from $25.4 million due to higher fuel prices.
Operating expenses as a percentage of operating revenue, with both amounts net of fuel surcharge revenue, improved to 92.2 percent from 93.2 percent.
"We are encouraged by our continued profitable growth," said Randolph Marten, chairman and chief executive officer. "Despite increasing fuel prices and a tight driver market, our focus on building a multifaceted business model and attention to developing a diverse customer base have expanded our logistics business and our regional operations throughout the country."
Marten said the company's logistics revenue, net of intermodal fuel surcharges, grew by 9.6 percent to $33.4 million from $30.5 million. "We have increased our regional operations to 67.8 percent of our truckload fleet as of March 31 from 57.1 percent as of a year earlier," he said. "Our regional operations contributed to a 4.5 percent increase in our average truckload revenue, net of fuel surcharges, per tractor per week, over last year's first quarter."