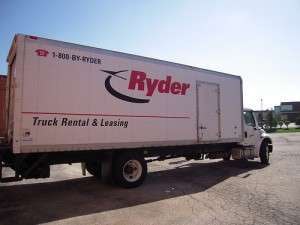 Ryder System Inc. on Tuesday, April 24, announced net earnings for the three-month period ended March 31 were $34.3 million versus $25.1 million in the year-earlier period. The Miami-based company said the increase primarily reflects the benefit of a Fleet Management Solutions acquisition, stronger used vehicle sales results and organic growth in commercial rental and in the Supply Chain Solutions segment.
Total revenue was $1.54 billion, up 8 percent from $1.43 billion, reflecting organic growth, the benefit of acquisitions and fuel services. Operating revenue – revenue excluding FMS fuel and all subcontracted transportation – was $1.23 billion, up 9 percent compared with $1.13 billion. FMS business segment total revenue increased 9 percent due primarily to higher operating and fuel services revenue.
FMS operating revenue increased 10 percent due primarily to the acquisition of U.K.-based Hill Hire, as well as stronger organic commercial rental and full-service lease revenue. SCS business segment total and operating revenue both increased 7 percent due to improved freight volumes and new business.
"We delivered a solid quarter that was somewhat better than expected in an economy that is recovering only modestly," said Greg Swienton, Ryder chairman and chief executive officer. "We are pleased that our largest product line, full-service lease, showed organic fleet growth for the second consecutive quarter."
Swienton said used vehicle sales performance improved due to stronger pricing, while Supply Chain Solutions earnings showed better-than-expected performance due to higher volumes and new business, including strong performance from the company's dedicated contract carriage services.
Commercial rental performance included a double-digit revenue increase driven by greater demand and better pricing, although utilization was lower than anticipated on a larger commercial rental fleet, Swienton said. "Overall, our solid performance reflected effective execution by our team across the key areas of our business," he said.