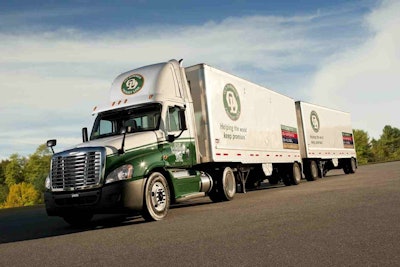 Old Dominion Freight Line Inc. on Thursday, April 26, announced revenue for the first quarter ended March 31, increased 17.6 percent to $497.1 million from $422.7 million for the first quarter of 2011. Net income was $31.1 million, an increase of 44.1 percent from $21.6 million. The Thomasville, N.C.-based company's operating ratio improved to 89.1 percent from 91.0 percent.
"Old Dominion produced strong profitable growth for the first quarter of 2012, which resulted in another record quarter for the company," said David Congdon, president and chief executive officer. "We are pleased with our first-quarter performance, which included the highest revenue for any quarter in our 78-year history and our best operating ratio ever during a first quarter. We are also encouraged by our financial results and operating trends, which improved against tough comparable performance metrics from the first quarter last year."
Congdon said Old Dominion's first-quarter revenue reflected a 10.7 percent increase in tonnage and a 5.5 percent increase in revenue per hundredweight resulting from a 9.5 percent increase in shipments and a 1.0 percent increase in weight per shipment.
"While the domestic economy appears to be slightly improving, we attribute our quarter-over-quarter growth in revenue and tonnage primarily to gains in market share," he said. "Our ongoing ability to win market share is based on our commitment to providing superior service to our customers at a fair and equitable price. This balance between service and price provides value to our customers and also allows us to further invest in OD."
Congdon said the movement of additional tonnage through Old Dominion's existing service center network provided further operating leverage, which drove improvements in most of its productivity metrics. Our first-quarter performance is an excellent start for the year and provides momentum for continued profitable growth in 2012," he said.