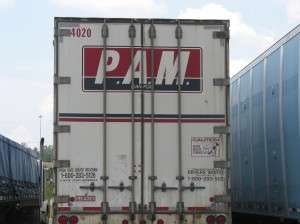 P.A.M. Transportation Services Inc. on Wednesday, April 25, reported net income of $674,193 for the quarter ended March 31 compared to a net loss of $1.98 million for the same quarter in 2011. Operating revenues were $96.16 million, a 13.1 percent increase compared to $85.03 million.
"We are very pleased to report positive earnings for the first quarter of 2012, and view our quarter as additional validation that the initiatives that have been put in place over the last several quarters are continuing to mature and positively impact both top-line revenue growth and cost control," said Daniel Cushman, president of the Tontitown, Ark.-based company.
Cushman said several factors positively influenced equipment utilization and rates, including the diversification of P.A.M.'s customer base, which mitigated the negative impact of seasonal downtime; planning efficiencies gained through the installation of electronic onboard recorders; a reduction of its average truck fleet age from 3.28 to 2.43 years; improvements to its freight network through customer diversification and operational initiatives; growth in its Expedited and Mexico service offerings; and less severe weather.
Cushman said that while P.A.M. has seen competition for qualified drivers becoming more intense, the company has increased its number of driving employees by 3.5 percent from the first quarter of 2011 to the first quarter of 2012 and has more than tripled the number of independent contractors during the same period.
"We are more aware than ever of the value of our driving employees, and have identified a multitude of opportunities over the last year that we believe will enhance our ability to attract and retain drivers in an ever-challenging driver market," he said.