Fixed-axle air ride trailer suspensions
Reyco Granning's RideMaster family of fixed-axle air ride trailer suspensions for heavy-duty fixed-axle applications includes two integrated axle models containing narrow bushings and three wide-bushing U-bolt axle connection models. The RideMaster family is designed to allow customers to spec suspensions for any load from 20,000 to 30,000 pounds per axle and to further customize their equipment with a choice of bushing widths and mounting options. The suspensions feature trifunctional hanger bushings for added life, bushing options of 4.5 inches narrow and 6 inches wide, cast-cap narrow I-beam mounts, optional weld-on and bolt-on hangers, mounting heights from 6.5 to 19 inches and up to 8 inches of axle travel.
➡ Reyco Granning
Visit www.ccjdigital.com/info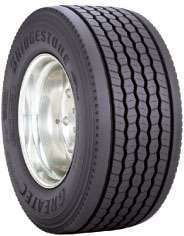 Fuel-efficient tire series
Bridgestone's Ecopia series of fuel-efficient tires are designed to reduce overall tire wear costs by fostering retreading. Five tires in the Ecopia series are complemented with equivalent Bandag FuelTech retreads to reduce lifecycle costs.
NanoPro-Tech polymer helps control particle movement by bonding the tread's carbon black more securely at an atomic level, which reduces flexing and related energy loss. The Fuel Saver sidewall compound runs cooler, while the IntelliShape sidewall – found in the M710 Ecopia drive radial and R197 Ecopia trailer tires – contains less bead filler volume, which helps lower tire weight, improving fuel economy and conserving natural resources. The R283 Ecopia steer tire's casing life is extended due to a Defense Side Groove that helps create uniform pressure along the footprint at the shoulder and helps extend tread life. A High Rigidity Tread Pattern helps extend wear, while a Waved Belt design in Greatec Ecopia tires helps improve durability, contributing to a more retreadable casing; Turn-In-Ply technology also helps enhance durability and retreadability over the casing's life. All these features remain after retreading, extending both the fuel efficiency benefits and tire life.
B710 FuelTech drive and B197 FuelTech trailer retreads complement the Ecopia drive and trailer tires. For users of wide base singles, the Bandag B835 FuelTech and B135 FuelTech retreads are based on the Bridgestone Greatec M835 Ecopia drive and Greatec R135 Ecopia trailer radials.
➡ Bridgestone Tires
Visit www.ccjdigital.com/info

Snap-on plastic elbow
Fumoto's snap-on plastic elbow is designed to convert straight nipple-type drain valves to 90-degree L-shaped valves to facilitate improved hose connection, making it suited for tight areas with clearance issues. The 90-degree bend will help prevent the connected hose from kinking to facilitate full oil flow from the oil pan to help simplify oil changes.
➡ Fumoto Engineering
Visit www.ccjdigital.com/info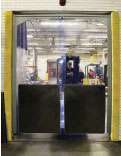 Swinging door
TMI's Mega-Pro Heavy Duty swinging door is designed to handle high levels of forklift and mechanized traffic while separating a building's environments and controlling temperatures. The Mega-Pro HD can be used in doorways up to 10 feet wide and 10 feet high and features heavy-duty galvanized steel hardware that attaches to clear 3/8-inch-thick industrial-grade PVC that is available in both regular- and low-temperature grades. A spring-loaded design facilitates consistent opening and closing, and all components are housed within a heavy-duty frame that helps prevent the infiltration of dust, debris and other contaminants. The door also can reduce decibel ratings up to 35 dBA and is suited for large warehouses, storage facilities and other areas with constant workflow and high-impact traffic; optional impact plates provide added durability.
➡ TMI | Visit www.ccjdigital.com/info

Shallow swivel impact socket
Snap-on's 3/8-inch Drive 12-point Shallow Swivel Impact Socket has a full 30-degree uninterrupted swivel action and flank drive wrenching system designed to make fastener removal easier and faster, improving productivity and performance. Applications include Ford F-550 truck driveshaft bolts, U-Joint bolts for GMC trucks, MT-45 Freightliner driveshaft bolts, driveshaft bolts on school buses and driveline bolts on New Holland and Case IH wheel loaders.
➡ Snap-on | Visit www.ccjdigital.com/info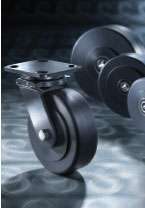 Caster wheels
Hamilton Caster's Nylast wheels are suited for high-capacity applications in corrosive and sanitary environments. With a tensile strength of 11,000 psi and resistance to both moisture and many chemicals, Nylast wheels are made from solid-cast high-performance nylon with added impact strength and resilience. The Nylast material is formulated with finely divided particles of molybdenum disulphide to enhance its load-bearing capability while maintaining the impact resistance inherent to nylon. The wheels' face, sides and bore are CNC-machined to precision tolerances. Sizes are available from 2½ inches in diameter up to 18 inches.
➡ Hamilton Caster
Visit www.ccjdigital.com/info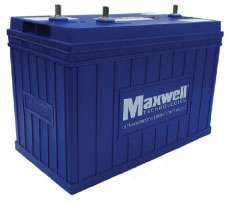 Ultracapacitor module
Maxwell designed its 12V ultracapacitor module as original equipment or as a retrofit solution to avoid starting problems in cold weather or when batteries are drained by repetitive starting, climate control or hotel loads. The device is built to store energy in an electric field, enabling it to charge and discharge in fractions of a second, perform normally over a broad temperature range (-40 to 65 degrees Celsius), operate reliably through one million or more charge/discharge cycles and resist shock, vibration and overcharging. Features include reliable starting for diesel engines up to 15 liters, maintenance-free operation, a Group 31 battery form factor, a built-in quick-charging system (15 minutes or less), full compatibility with existing battery systems and green technology with no heavy metals or toxic substances that require recycling.
➡ Maxwell Technologies
Visit www.ccjdigital.com/info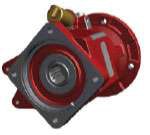 Power take-off
Parker Chelsea's 590 Series coaxial-designed rear-mount power take-off unit, designed for the Allison TC10 transmission, has a compact housing to help resolve clearance issues. High-capacity bearings and gear designs provide torque ratings up to 660 lb.-ft., while the clutch-pack design allows for easier engagement with no gear clashing. Four direct-mount pump flange options come standard with its Wet Spline design, providing for increased PTO life.
➡ Parker Chelsea
Visit www.ccjdigital.com/info
Cooling solutions
Thermo King's dual-mode cellular/Wi-Fi monitoring solution is designed to allow users to save cellular communication costs and increase efficiency while increasing uptime by using Wi-Fi when available. TracKing is a Web-based asset management system designed to remotely monitor and track untethered refrigerated units, pre-cool them, download temperature data and upload temperature profiles. When the truck leaves the yard, TracKing is designed to switch to cellular mode automatically for over-the-road monitoring.
The company's CargoLink wireless door sensors are designed to communicate to the refrigeration unit to shut off when the door is open, thereby reducing fuel and maintenance costs while protecting the load. Users can combine these wireless sensors with TracKing telematics to help maximize control and visibility of load quality parameters. There are no wires to route through the trailer or truck body.
➡ Thermo King
Visit www.ccjdigital.com/info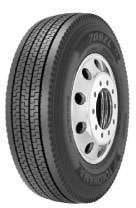 Drive tire
Yokohama's 709ZL drive tire, available in 295/75R22.5 and 11R22.5 sizes, employs the company's Zenvironment technology designed to provide low rolling resistance and improved fuel economy due to its tread design, a solid shoulder rib and serpentine grooves for extra rigidity and stability, as well as a Z Block design to help improve wet traction.
➡ Yokohama Tire Corp.
Visit www.ccjdigital.com/info

Loading dock safety gate
Diversified Fall Protection's loading dock safety gate is designed to protect personnel from loading dock falls and is available in 6-, 8- and 10-foot stock widths. The system's pivoting design utilizes a rolling wheel, providing added accessibility to the dock's overhead door and truck opening. When not in use, the safety gate can be rolled back to the locked and protected position. The pivot-and-roll feature also eliminates lifting and removing heavy sections of portable guard rail, keeping loading docks gated and compliant when not in use. A floor-based pin lock feature also helps reduce tripping hazards.
➡ Diversified Fall Protection
Visit www.ccjdigital.com/info
Self-steer axle/suspension series
SAF-Holland's integrated suspension/axle systems with self-steering capability feature the company's lightweight fusion beam technology available in two different steer angle models. The optimized self-steer axle is designed to provide a wheel cut of 20 degrees or 25-30 degrees depending on model. Various capacities are available in the series, which includes the SAF Self-Steer CBX23, SAF Self-Steer CBX25 and SAF Self-Steer CBX25/30. While the CBX23 and CBX25 models deliver capacities of 23,000 and 25,000 pounds, respectively, the CBX25/30 offers an additional 30,000 pounds of load-carrying capacity at creep speed (5 mph or less) and 25,000 pounds of capacity for on-highway operation through the addition of a larger air spring.
➡ SAF-Holland
Visit www.ccjdigital.com/info
Digital wireless camera, receiver
ASA Electronics' WVRXCAMTC digital wireless camera and receiver system is designed to allow a user to add one of Voyager's wireless cameras to their factory-installed monitor or replace old, outdated or broken cameras. The digital receiver component is built to connect to any existing monitor with the appropriate optional adapter harness. Voyager's all-digital Wi-Sight technology is designed to provide for frequency matching, which digitally locks the camera to the receiver, creating a signal strong enough to transmit through and around objects with no interference. The system includes a wireless receiver box, wireless camera, scotch fasteners, stainless-steel hardware and a noncorrosive camera-mounting bracket.
➡ ASA Electronics
Visit www.ccjdigital.com/info
Spring brakes
Haldex's Gold Seal and Life Seal spring brakes come with the clevis welded to the pushrod in both standard stroke and long stroke. The cut-to-length pushrod eliminates the need for a jam nut, which helps improve clearance and vehicle safety while simplifying installation of both the spring brake and automatic brake adjuster.
➡ Haldex
Visit www.ccjdigital.com/info
Low-slung dropdeck trailer
East now offers an all-aluminum dropdeck trailer with a low-slung 36-inch deck height to provide less need for partial dismantling of the load to get it below the 13-foot 6-inch maximum legal height. The trailer's lower center of gravity helps improve stability for loads of unusual sizes and shapes, while the all-aluminum frame is designed to balance strength and weight to optimize payloads. The trailer is available in multiaxle configurations in lengths up to 53 feet.
➡ East Manufacturing | Visit www.ccjdigital.com/info

Rollup door
Transglobal's ¼-inch Extreme Duty Composite Roll Up Door is built to be lighter than conventional wood doors and has a tongue-and-groove design for added cargo protection. The door, which also is protected against salt spray, is engineered to be interchangeable with OEM rollup door systems and to be 100-percent recyclable.
➡ Transglobal Door Inc.
Visit www.ccjdigital.com/info
Tandem axle
Meritor's FueLite tandem axle is the first member of the company's SoloDrive Series that features 6×2 tandem rear axles and is based on the Meritor 160 series drive axle. The tandem axle is designed to deliver nearly 400 pounds in weight savings and about a 2-percent increase in fuel efficiency when compared to a traditional 6×4 configuration. Features and benefits include:
• Meritor's 160 DualTrac housing that allows wide-based single tires or duals for enhanced efficiency;
• A 2.50-4.10 ratio range to match the application; and
• A 12.7-millimeter wall housing compatible with all current 40,000-pound tandem air suspensions.
➡ Meritor Inc.
Visit www.ccjdigital.com/info