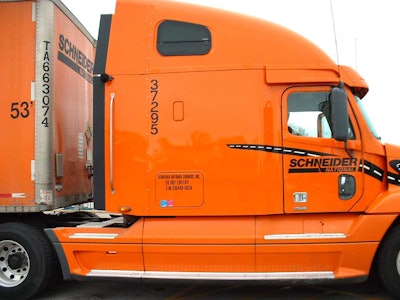 Schneider National on Wednesday, May 2, announced that it will transform a substantial portion of its fleet by the end of 2012. The company has invested in 3,000 new 2012 and 2013 tractors manufactured primarily by Freightliner, replacing one-third of its 10,000-plus trucks with ones coming right off the production line, at a rate of 75 per week.
The most significant safety technology upgrade is the OnGuard collision mitigation system, which assists drivers in recognizing and responding to potentially dangerous driving scenarios that could lead to a rear-end collision. OnGuard features a forward-looking radar sensor that monitors the distance, speed and deceleration of a vehicle ahead and alerts the driver to take appropriate action through an in-cab display.
"Safety first and always is our number-one core value, which means we always look for new ways to prevent crashes that could endanger our drivers and the motoring public," says Don Osterberg, senior vice president of safety and security for the Green Bay, Wis.-based company. "OnGuard certainly meets that goal."
On the sustainability front, the engine inside each new tractor meets the U.S. Environmental Protection Agency's 2010 emissions requirements, while the tractors will have aerodynamic features that reduce drag, including wheel covers. Most will have fairings that have been redesigned to optimize fuel efficiency and improve mileage per gallon, as well as Predictive Cruise Control, all of which further shrinks Schneider's environmental footprint. Annually, the new trucks will save almost 2 million gallons of fuel and more than 22,000 tons of carbon dioxide emissions, the company says.