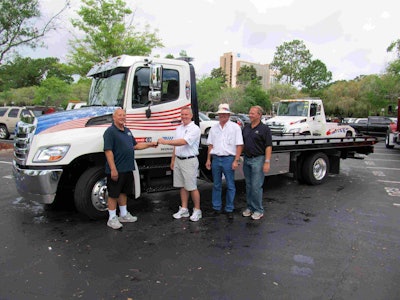 Hino Trucks teamed up with Miller Industries to provide a tow operator a chance to win a fully loaded 2012 Hino model 258ALP with a Century 12 Series LCG Carrier. The truck is part of a giveaway that benefits The Professional Wreckers of Florida Education and Legislation Programs. This year's winner was Joe Spina, owner of Direct Towing of Sarasota, Fla., who already has two Hino 258 model trucks in his fleet.
Hino Trucks has partnered with the PWOF to provide a vehicle for the Tow Show's giveaway for the past several years. The truck travels to a number of Towing & Recovery meetings and events throughout the year. "This is a way for Hino to give back to the independent wrecker operators and to help promote education and safety," says Glenn Ellis, vice president of marketing and dealer operations for Hino Trucks. "The PWOF looks for new ways to advance the towing industry, and Hino Trucks is proud to partner with Miller Industries to support this endeavor and their organization."
The Hino 258ALP model roll back and the Century 12 Series LCG Carrier allows the carrier deck to be mounted lower, which Hino says provides a lower load angle, better stability, increased safety with the operator being able to secure the load from the ground and the ability to transport taller loads.