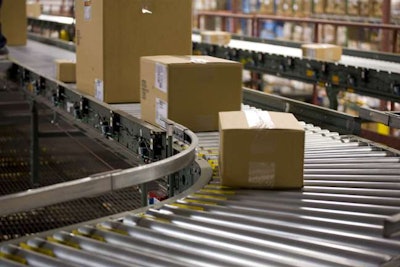 FedEx Corp. on Thursday, May 10, announced that it has signed an agreement to acquire Tatex, a privately-held French business-to-business express transportation company with more than 1,000 employees, a nationwide network with a central hub south of Paris and 35 shipping centers, including six regional hubs.
FedEx said the acquisition, terms of which were not announced, will give FedEx Express access to a nationwide domestic ground network that carries 19 million shipments. In 2009, FedEx expanded its EMEA hub at Paris' Roissy Charles de Gaulle airport, making it the biggest FedEx Express hub outside the United States.
"FedEx has always recognized the importance of our Europe, Middle East, Indian Subcontinent and Africa Region and its many unique marketplaces to global trade, and this acquisition shows we are continuing to systematically and strategically invest in growing our network and value proposition in these important areas of the world," said Frederick W. Smith, chairman, president and chief executive officer of FedEx Corp. "The Tatex business complements FedEx existing operations in the French market and will enable the company to provide additional local services in one of Europe's largest geographies to its customers around the world."
FedEx also recently announced plans to acquire Opek Sp.z o.o., a Polish shipping company. These acquisition plans follow the company's purchase of ANC Holdings Limited, a U.K. domestic express transportation company in 2006, and of its Hungarian service provider, Flying Cargo Hungary Kft, in 2007. Between October 2011 and the end of May 2012, FedEx will have opened 38 new stations across Europe, including 19 in France.
"Once the transaction closes, the combination of FedEx international reach and the well-established and comprehensive domestic network of Tatex will be a powerful and valuable combination that will deliver immediate value for our customers, employees and the communities in which we operate," said Xavier Papot, Tatex president.