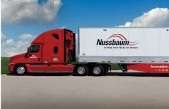 Nussbaum Transportation announced a 1-cent-per-mile pay increase for company drivers effective June 3. Stop-off and loading/unloading pay increases also were implemented, along with the addition of an East Coast Premium for all Nussbaum drivers. Nussbaum says owner-operators also will benefit from the fuel savings attributed to aerodynamic skirts and tails that recently have been installed on its trailers.
"The professional drivers at Nussbaum are some of the best in the industry, and it is our desire to recognize and reward their performance," said Brent Nussbaum, chief executive officer. "We are dedicated to the idea of 'When our employees do well, Nussbaum does well, and when Nussbaum does well, our employees do well.' Drivers are the backbone of our business, and we want to show that we truly appreciate their hard work and loyalty."
Nussbaum also has announced three other pay increases within the last year:
• A switch to practical miles to more closely match drivers' paid miles to their actual routes;
• Doubling the dollar payout in the performance-based quarterly bonus program; and
• A previous 1 cent mileage increase.
Nussbaum said it also provides drivers with consistent weekend home time, late-model trucks and trailers, medical benefits, a company-matched 401(k) program, referral bonuses and a weekly minimum guarantee.