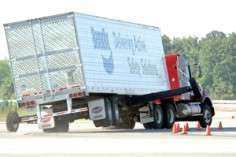 The National Highway Traffic Safety Administration on Wednesday, May 16, proposed a new federal motor vehicle safety standard to require electronic stability control systems on large commercial trucks, motorcoaches and other large buses for the first time ever. The U.S. Department of Transportation said NHTSA research shows the technology could prevent up to 56 percent of rollover crashes each year – the deadliest among all crash types – and another 14 percent of loss-of-control crashes.
"The department and the National Highway Traffic Safety Administration have long recognized the potential impact of stability control technology in reducing deaths and serious injuries that result from rollover crashes," said U.S. Transportation Secretary Ray LaHood. "Today's proposal is a major step forward to improving the safety of large commercial trucks, motorcoaches and other large buses."
NHTSA said an extensive research program to determine how available stability control technologies affect crashes involving commercial vehicles found ESC systems to be the most effective tool for reducing the propensity for heavy vehicles to roll over or lose control. ESC have sensors that monitor vehicle movement and steering to help mitigate rollover incidents by using automatic computer-controlled braking, and also aid the driver in addressing severe understeer or oversteer conditions that can lead to loss of control.
NHTSA estimates that a standard requiring ESC on the nation's large trucks and large buses would prevent up to 2,329 crashes, eliminate an estimated 649 to 858 injuries and prevent between 49 and 60 fatalities a year. "We've already seen how effective stability control can be at reducing rollovers in passenger vehicles – the ability for this type of technology to save lives is one reason it is required on cars and light-duty trucks beginning with model year 2012," said NHTSA Administrator David Strickland. "Now, we're expanding our efforts to require stability-enhancing technology on the many large trucks, motorcoaches and other large buses."
While many truck tractors and large buses currently can be ordered with this technology, the proposed standard would require ESC systems as standard equipment on these types of vehicles. As proposed, the rule would take effect between two and four years after the standard is finalized, depending on the type of vehicle.
"The government's notice makes a clear statement, underscoring the advantages of full-stability technology as opposed to roll-only technology," said Fred Andersky, Bendix director of government and industry affairs. "While our preference is always to let the overall market drive choice, we support NHTSA's selection of full-stability technology to mandate. We believe full-stability technology on tractor-trailers, highway motorcoaches and other large buses is critical to the safety of today's highways."
Bendix produces both roll-only and full-stability systems. "In our view, full stability is the superior technology, and the cost it adds is minimal," Andersky said. "Just as important, full-stability technology is the foundation for the Bendix active safety and driver assistance systems available now, as well as advanced concepts in development."
Meritor WABCO Vehicle Control Systems confirmed that its SmarTrac Electronic Stability Control product has the technology to help ensure that truck tractors and motorcoaches are able to meet the proposed standard. The system was first introduced by Meritor WABCO in 2005 and combines Roll Stability Control (RSC) and yaw or rotational control.
"At Meritor WABCO, we take extreme pride in putting safety first and have long been at the forefront of ESC technology in North America," said Jon Morrison, president and general manager. "We continue to develop leading technology that will help our customers save lives, save property and make our highways safer. We agree with NHTSA's recognition of the benefits of ESC technology."
The American Trucking Associations said it was encouraged by NHTSA's proposal. "Safety is, and always has been, ATA's highest calling," said Bill Graves, ATA president and chief executive officer. "We're encouraged that NHTSA is looking at this important area of truck safety. Technology, whether it is ESC, roll stability control or electronic onboard recorders, can help our industry improve on its already impressive safety record." Graves said ATA will examine NHTSA's proposal closely "with an eye on providing strong, substantive comments" to the agency's docket later this year.
NHTSA's Notice of Proposed Rulemaking is being published in the Federal Register, and members of the public will have the opportunity to comment on the proposal for 90 days. The agency also will hold a public hearing on the proposed safety standard to solicit further public comment; the date and location of that hearing will be published in the coming weeks.
For more information, go to www.regulations.gov; the docket number is NHTSA-2012-0065.