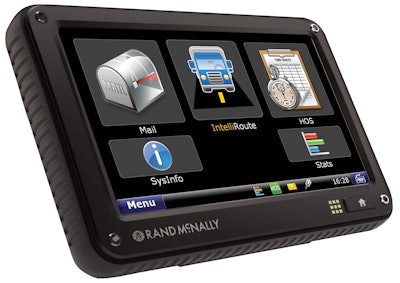 Rand McNally announced a new pricing plan, features and warranty program for its TND 760 Fleet Edition, an in-cab EOBR device that installs in less than 30 minutes.
For as little as $649 for the hardware and $19.95 per month for service, trucks can be equipped with a fully compliant EOBR system. For $799, as announced prior, the device also comes loaded with Rand McNally's navigation. Lease options are available for as low as $39 per month for qualifying fleets.
Three monthly service plan options now are available. The EOBR plan offers electronic hours-of-service and vehicle inspection reporting for $19.95/month; the Basic plan, which layers on vehicle positioning and online mapping, text and form messages, driver e-mail and attachments, as well as integration access via Rand McNally Connect, is $29.95; and the full Enterprise plan that layers on a driver scorecard, vehicle performance, critical event reporting and vehicle maintenance is $39.95. These service plan prices are based on a three-year commitment.
A three-year warranty is now standard on the TND 760 hardware. This is an upgrade from the standard one-year warranty typically offered in the industry, the company says.
Rand McNally announced a group of new features coming on stream in the next few months. By the end of June, a new back-end mapping portal with upgraded geofencing, alerting and route replay will be up and running. This feature will be part of the Basic and Enterprise monthly plans. Also in development are enhancements to the IntelliRoute TND GPS navigation software, including the ability for fleets to send, and for drivers to receive, routes on the TND 760.
"As we roll out the TND 760 to more fleets and transportation companies, we're finding that there are a number of items they're responding to," said Dave Muscatel, chief executive officer of Rand McNally. "The low cost, the quick installation and the fact that Rand McNally is well regarded among professional drivers is key. When drivers accept the device, they use it."