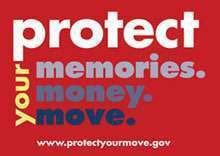 The Federal Motor Carrier Safety Administration announced the launch of a new "Consumer Checklist" to assist consumers in choosing a responsible interstate moving company. The free checklist, available on FMCSA's www.protectyourmove.gov website, will help consumers protect themselves from fraudulent or dishonest interstate household goods movers.
"Household goods are precious cargo for families across the country, representing so many important memories and milestones," said U.S. Transportation Secretary Ray LaHood. "This new checklist will give consumers the tips they need to protect their move and make good decisions when selecting a moving company."
The checklist offers tips on the important steps consumers should take before hiring a moving company, including researching the interstate moving companies' consumer complaint history as well as the company's on-road safety performance records.
"Price isn't the only factor one should consider when hiring a moving company," said FMCSA Administrator Anne Ferro. "After going through the checklist, consumers should feel confident they know how to locate a company that is reliable, safe and responsible."
During 2011, FMCSA received 2,851 consumer complaints about household goods movers, up from 2,440 in 2010. Among the most common complaints are shipments being held hostage; loss, damage or delay of shipments; unauthorized movers; and deceptive practices such as overcharges.
Nationwide, the cities where consumers filed the most complaints between October 2010 and September 2011 about interstate shipments that originated there were, in order, New York, Las Vegas, Chicago, Houston, Los Angeles, San Diego, Atlanta, San Antonio, Philadelphia and Phoenix.