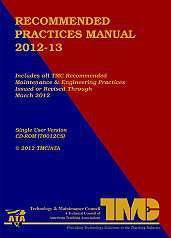 The 2012-2013 Recommended Practices Manual – compiled by the Technology & Maintenance Council of the American Trucking Associations – has been updated to provide the latest comprehensive maintenance and spec'ing information, comprising more than 2,900 pages.
ATA says fleets and equipment manufacturers across the nation depend on the manual when it comes to the purchase, design, maintenance and performance of equipment. These comprehensive manuals are available individually, in two hardcover volumes, or on a two-volume CD-ROM.
The 2012-2013 manual includes the latest recommended practices for:
• Tires and wheels;
• Engines;
• Electrical and instruments;
• Fleet maintenance management;
• Chassis and brake systems;
• Cab and controls;
• Trailers, bodies and material handling;
• Cost control methods;
• Energy conservation; and
• Onboard vehicle electronics.
For more information or to purchase the manuals, go to www.atabusinesssolutions.com/Default.aspx?TabID=274&ProductId=1135209.