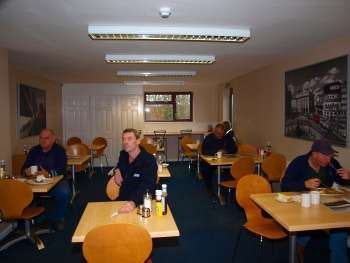 As part of an overall effort to enhance safety and improve traffic, many truckstops in Colorado soon will be equipped with a tool that should provide truck drivers and other travelers with real-time information relating to roadway, weather and traffic conditions on key highways in the state. The program is a cooperative effort involving Wal-Mart, local truckstops, the Colorado Motor Carriers Association and the Colorado Department of Transportation.
The kickoff of the effort occurred recently at Johnson's Corner Truckstop in Johnstown along Interstate 25, which is one of the largest truckstops in Colorado. Representatives from Wal-Mart, Johnson's Corner Truckstop, CDOT and CMCA attended the event and received an overview of how the system works and future plans.
The project involves the distribution and installation of 20 42-inch HDTV monitors in various truckstops throughout the state. The monitors, donated by Wal-Mart Transportation, will provide streaming video from CDOT video cameras that are aligned along major highways in the state. As part of the project, CDOT is installing the necessary software at each of the truckstops to drive the video display.
"Wal-Mart is proud to be a partner and supporter of this important highway safety initiative which will not only help truck drivers but other members of the traveling public be better aware of traffic and weather conditions on Colorado's key highways," says Daryl Decker, regional safety director for Wal-Mart Transportation.
The video monitors will allow travelers to view real-time conditions on the state's highways. Along with the video images for certain highway segments, travelers will be able to see current traffic speeds, weather conditions and bottlenecks. In addition, drivers will be provided with alerts related to road closures, accidents, roadway construction and other conditions that could affect travel.
"More than anyone else, Colorado truck drivers and trucking companies appreciate the rapid changes that may occur with our weather as well as traffic conditions on our state's roadways," says Victor Domenico, CMCA director. "Allowing drivers to visually see the current conditions on key highways will allow them to make better decisions in their trip planning and preparation. This project represents a win-win for the public and private sectors. We wish to thank Wal-Mart, our truckstops and CDOT for their support and assistance on this program."
In addition to Johnson's Corner, the video system has been or will be placed in truckstops in Commerce City, Wiggins, Grand Junction, Limon, Watkins, Fountain, Brush, Walsenberg and Glenwood Springs.