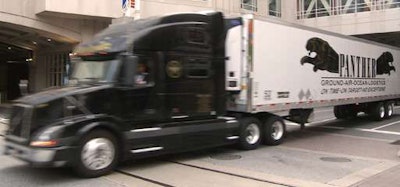 Arkansas Best Corp. on Thursday, June 14, announced it has entered into a definitive agreement to acquire Panther Expedited Services Inc. from Fenway Partners, a middle market private equity firm for about $180 million. The acquisition is scheduled to close on or about June 15.
Panther, an independent North American expedited transportation and logistics provider, reported about $215 million in revenue and $24 million of adjusted earnings before interest, taxes, depreciation and amortization in 2011. Arkansas Best said Panther's specialized equipment, technology and expertise in expedited transportation, logistics and global forwarding will enhance its end-to-end solutions offering, providing more of the services that customers increasingly demand.
"Panther Expedited Services is an excellent strategic fit for our company and our customers as we seek to offer end-to-end logistics solutions for progressively more complex supply chains," said Judy McReynolds, Arkansas Best president and chief executive officer. "We are very enthusiastic about this unique transaction, which met all of our criteria for growth among many options we analyzed for several years. With Panther operating as a sister company to ABF Freight System, our core LTL business, we are better positioned to serve as a premier one-source logistics partner to our customers as their shipping needs rapidly evolve. Importantly, we are also creating a more flexible cost structure required to compete in today's demanding global marketplace."
Arkansas Best said the acquisition is expected to expand its customer base and cross-selling opportunities with the addition of more than 11,000 Panther customers in attractive end markets. The current Panther management team is expected to remain in place.
"We are thrilled to become part of Arkansas Best, a widely respected organization in the LTL industry and transportation marketplace," said Andrew Clarke, president and CEO of Panther Expedited Services. "We share a commitment to superior customer service. Both our companies have expedited transportation solutions, but with different complementary operating models and minimal customer overlap. Upon the close of this transaction, Panther employees will have access to a much broader sales organization nationwide and a parent company with significant resources. We're excited about the opportunities to grow and expand the services now available to us with this new strategic owner and a capital structure that enables us to invest in our business."
Timothy Mayhew, managing director of Fenway Consulting Partners and a member of Panther's board, said that since acquiring the company in 2005, Fenway has worked closely with Panther founder Daniel Sokolowski, Clarke and their team to grow the company.
"Amongst other notable accomplishments, we expanded Panther's global freight forwarding network, which significantly broadened the market in which the company operates," Mayhew said. "Not only has this been a successful investment for Fenway, we are confident that this transaction with a well-respected strategic buyer like Arkansas Best will best position Panther and its employees for future growth and enduring success during the next phase of its development."