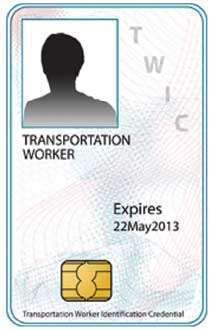 The Transportation Security Administration is granting a temporary exemption from certain Transportation Worker Identification Credential regulations regarding card expiration and replacement requirements. This exemption, which applies to U.S. nationals who hold a valid TWIC expiring on or before Dec. 31, 2014, permits eligible TWIC holders to obtain a replacement card that extends the expiration date of their current security threat assessment and TWIC by three years.
During 2012, the U.S. Department of Homeland Security intends to publish a Notice of Proposed Rulemaking to seek comment on card reader requirements and deployment requirement plans. At the end of the three-year extension period, pending the outcome of the rulemaking activity, DHS expects card reader requirements to be in place and readers to be deployed at facilities with the highest risk.
If cardholders so choose, they will have the option to renew the card for a full five years. Eligible individuals choosing the three-year TWIC extension may obtain it by ordering the credential via telephone, paying a $60 card replacement fee and visiting a TWIC enrollment center to pick up and activate the card. For more information, go to www.regulations.gov; the docket number is TSA-2006-24191.