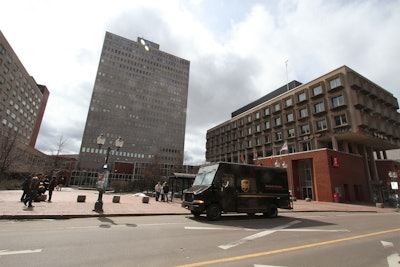 Business and government leaders in Canada are working together to boost international trade and "getting it right," driving economic growth in a manner that every country should emulate, a top UPS executive said Tuesday, June 19. "When it comes to global trade, Canada is leading the way," said David Abney, UPS chief operating officer.
Abney, addressing the Economic Club of Canada, said a new UPS survey on trade showed Canadian business leaders "are optimistic and outwardly focused. Canadians are ready and eager to compete in a global economy with your eyes fixed far beyond your traditional trading partners in the States. What does this mean for your economy? It's growing, and you're creating jobs. There's a lesson for the United States."
Abney said he understood it had taken several years for Canadian business leaders to reach the point of looking beyond Canada and the United States, but today Canada is reaping the benefits of recognizing the emergence of "the new consumers," a vast new class of buyer that's evolving with the development of middle classes in Asian and Latin American countries.
These consumers have two things that any growing business wants to see – discretionary income and a thirst for spending. "The growing ranks of the middle class in up-and-coming parts of the world mean that the old rules of the global economy no longer apply," Abney said. "If you want to grow your business in the future, you'll need to reach out and attract these new customers. In short, you'll have to think anew."
Such new thinking is even more critical because "we see the developed world and emerging markets moving on two different tracks," he said. According to the International Monetary Fund, growth in emerging economies is expected to reach 5.75 percent this year, or nearly four times greater than the 1.5 percent expected of advanced economies.
Beyond the change in focus by Canada's business community, government leaders deserve praise as well, Abney said. "In the last five years, the government has secured six free trade agreements, most of them in South and Central America and Europe," he said. "Looking ahead, Canada is negotiating free trade agreements with India, Japan, the European Union, South Korea, Singapore and others. The stakes are enormous."
There is much that could be done to open the U.S.-Canada border more broadly and "reduce friction" in the movement of goods and services, Abney said, driving economic growth in both countries. One promising sign is to use The Transpacific Partnership negotiations as a way to modernize trade rules governing the flows across U.S. borders with both Mexico and Canada.
Abney said he was encouraged by recent news reports that the U.S. government is doing just that by moving to add Mexico and potentially Canada to those negotiations, which currently include nine countries. "NAFTA was based on old trade paradigms that no longer reflect the realities of trade today," he said. "Including Mexico and Canada in the TPP is the right way to ensure that we have a modern trade agreement in place governing the flow of goods and services across our borders."
Abney concluded there was still time for the United States to reinvigorate its role in global trade. "That result would be good for not just the United States, but also Canada and the rest of the world."