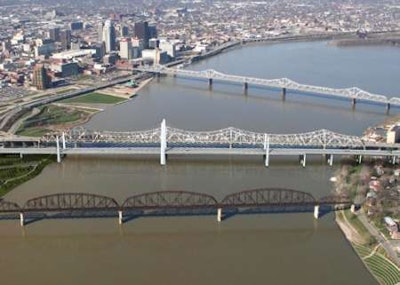 The Federal Highway Administration announced that it has cleared the way for Kentucky and Indiana to move forward with the $2.6 billion Ohio River Bridges project by approving its environmental review, a step toward construction scheduled to begin later this year.
"This final step in the environmental review process allows Kentucky and Indiana to begin the process of improving safety and easing congestion for thousands of people who travel across the Ohio River every day," said U.S. Transportation Secretary Ray LaHood. "This project will put people to work and help improve our infrastructure – a win-win for these two states."
Working together, Kentucky and Indiana will build a new Interstate 65 bridge over the Ohio River, reconstruct the I-64/I-65/I-71 Kennedy Interchange and build a new SR-265 East End facility that includes a new bridge over the Ohio River and a tunnel connecting to the I-265 Gene Snyder Freeway.
When completed, these improvements will improve traffic safety and reduce congestion between southern Indiana and Louisville. State officials estimate the six-year project – one of the largest in the nation – will support more than 4,000 construction, engineering and supply-related jobs.
In 2003, FHWA approved a Record of Decision calling for two new bridges and a reconfiguration of the Kennedy Interchange in Louisville. In the years since, design changes reduced the project's estimated cost from $4.1 billion to $2.6 billion – a savings of more than 35 percent. Their modifications to the project's design required a revision to the original ROD, which is what FHWA officials signed Wednesday, June 20.
"This project will create jobs in the short term and set the stage for continued economic growth for years to come," said FHWA Administrator Victor Mendez.
The downtown Louisville portion, overseen by the Kentucky Transportation Cabinet, will increase I-65 capacity from eight to 12 lanes, build a new bridge with approaches and reconstruct the Kennedy Interchange where I-64, I-65 and I-71 converge. The Indiana Department of Transportation will oversee construction of the East End Crossing, spanning the river between Prospect, Ky., and Utica, Ind.