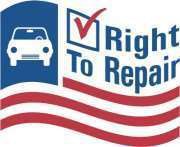 The Massachusetts State Automobile Dealers Association and the Massachusetts Right to Repair Coalition on Wednesday, June 20, announced an agreement on compromise "right to repair" legislation that the groups said would avoid a November ballot question fight if passed.
"Our members not only are franchise vehicle dealers for the manufacturers but also act as independent repairers when working on vehicles outside their franchise line makes," said Robert O'Koniewski, MSADA executive vice president. "Therefore, a consumer's ability to have his or her car repaired by whomever he or she wants is important to us. As part of the legislative process, we have been working with legislators, the Massachusetts Right to Repair Coalition, vehicle manufacturers and all other interested parties to achieve a consensus on a bill that would ultimately avoid the November ballot question while fixing the problems in the petition that directly impact our member dealers, their almost 25,000 employees and their sales and repair customers."
O'Koniewski said that should the ballot question pass, and all polls indicate that it would, there is a possibility that dealers will not have vehicles to sell to customers beginning in the spring of 2014, as the manufacturers cannot, or will not, comply with the law. "That is a prospect with which we cannot gamble our dealers' businesses and their customers' satisfaction," he said.
The Massachusetts Right to Repair Coalition, representing 40 consumer and aftermarket organizations, more than 2,000 independent repair shops and 32,000 jobs across Massachusetts, and MSADA, which represents the 410 franchise new car and trucks dealers in the Commonwealth employing almost 25,000 men and women, sent a joint letter to Massachusetts lawmakers asking them to act on the Right to Repair legislative proposal in advance of the final July 3 deadline for certified signatures on the Right to Repair ballot initiative to be submitted to the Massachusetts Secretary of State. Both MSADA and the Massachusetts Right to Repair Coalition said they would prefer a legislative solution to the Right to Repair issue as long as it contains strong consumer protections and remedies as proposed in the ballot initiative.
"We are especially pleased that the Massachusetts State Automobile Dealers Association has joined us in pushing for a legislative solution to the Right to Repair issue," said Art Kinsman, spokesman for the Massachusetts Right to Repair Coalition. "At the heart of it, Right to Repair has always been about fairness in creating a level playing field between the car and truck manufacturers, franchise new car dealers and their independent counterparts in the aftermarket. Our fight has always been with big out-of-state car manufacturers on this issue."
Kinsman said legislators should be assured that the negotiated Right to Repair legislation will benefit their constituents who make a living in the local automotive repair business. "Of course, the greatest beneficiary is the car owner, who will have a true, unfettered choice of where they get their cars fixed," he said. "Today's accord proves that both new car dealers and independent repairers together have their customers' best interests at heart."