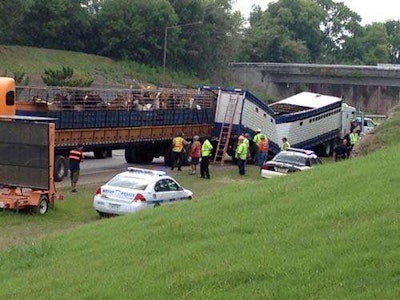 The Federal Motor Carrier Safety Administration on Friday, June 29, ordered Tennessee-based truck company Three Angels Farms and its owners, Edwin Ayache and Dorian Ayache, to cease all transportation services immediately based on serious safety violations that posed an imminent hazard to public safety.
The agency said the shutdown order follows an extensive review by the agency of the truck company's operations, which found multiple federal violations in hours-of-service compliance, driver qualification requirements, drug and alcohol testing and vehicle maintenance.
FMCSA said its investigators discovered that Three Angels Farms permitted its drivers to operate commercial motor vehicles without commercial driver's licenses and did not conduct proper controlled substances testing of its drivers. During the past six months, Three Angels Farms has had two accidents involving poorly maintained vehicles and fatigued or disqualified drivers, which resulted in the deaths of four horses, according to the agenchy.
"This strong enforcement action is an example of how we are working to keep all travelers on our highways and roads safe," said FMCSA Administrator Anne Ferro. "We will continue to use every resource within our current authority to weed out the unsafe operators."