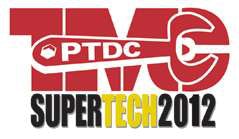 The American Trucking Associations' Technology & Maintenance Council will hold its 2012 Fall Meeting and National Technician Skills Competition – TMCSuperTech 2012 – Sept. 10-13 at the David L. Lawrence Convention Center in Pittsburgh. The meeting theme, "Forging Solutions for Tomorrow's Maintenance Challenges," will be carried out through technical sessions covering management, training, equipment selection, regulations and sustainability.
Full technical sessions include: "Integrating Hybrid Powertrain Technologies for Commercial Vehicle Applications for Commercial Vehicles," "Technician Recruitment and Development Strategies: Dealing with the Technician Shortage," and "TMC's Fleet Maintenance Executive Panel: Spec'ing and Management Strategies for Maximum Fuel Efficiency."
Mini-technical sessions include:
• "21st Century Tools for the 21st Century";
• "Best Practices for Tire Shops and Service Trucks";
• "Coolant Management Strategies: Identification, Tooling and Maintenance";
• "Cab Air Quality Maintenance";
• "Bulk Storage/Dispensing Options at the Terminal Level: Municipal, State and Federal Regulatory Requirements";
• "Braking Up Is Not Hard to Do: Answers to Common Brake Drum Installation Issues";
• "Spec'ing the 'Green Reefer': Innovations in Refrigeration Unit Design, Maintenance & Operations";
• "MPG: Lost in the Details";
• "Diagnostics: What Your Fleet Needs to Get the Job Done";
• "Light and Medium Truck Tire Failure Analysis";
• "Today's Emissions Aftertreatment and its Impact on Vocational Vehicle Maintenance and Total Vehicle Operating Cost"; and
• "Is Corrosion Eating Away at Your Bottom Line?"
More than 100 task forces will meet on the opening day to work on recommended practices, information reports and position papers. Later on Monday, Fleet Talk provides the setting for maintenance and equipment professionals to exchange information and ideas related to equipment problems, and TMC's Fleet Operator's Forum offers a forum for fleet managers seeking redress on equipment issues.
Tuesday's Industry Luncheon speaker will be Michael Card, president of Combined Transport and first ATA vice president; Card is past president of the Oregon Trucking Association and has been active in leading many legislative reforms for the trucking industry. Thursday's Shop Talk will feature a return of the popular "TMC's Failure Analysis Roadshow" with examination and discussion of failed parts submitted by members.
TMCSuperTech 2012 contestants from across the country will attend the PTDC Training Fair, take their qualifying written exams and attend a reception in their honor on Monday, followed by the daylong Hands-on Skills Challenge on Tuesday. Winners will be announced at Wednesday's TMCSuperTech 2012 Awards Luncheon, open to both contestants and meeting attendees.
Additional educational opportunities for meeting attendees will be available at the Technician Training Fair held in conjunction with TMCSuperTech 2012. Six training sessions will be held on Monday and repeated on Wednesday to maximize training opportunities. Training qualifies for National Automotive Technicians Education Foundation continuing education credits. The sessions include:
• Modern HVAC Control System Diagnostics;
• Fifth Wheel Systems;
• Understanding Loss of Tension in the Accessory Belt Drive System;
• Environmental Awareness and Safety Procedures;
• Repair Order Process Guidelines; and
• Advanced Multimeter Techniques.
Information and registration for TMC's 2012 Fall Meeting and National Technician Skills Competition is available online at http://tmc.trucking.org.