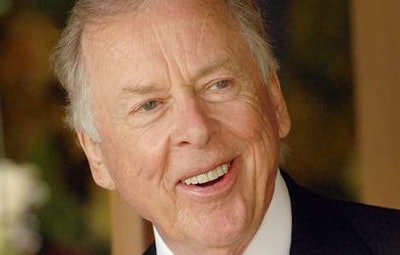 The American Trucking Associations announced that energy executive T. Boone Pickens will be a keynote speaker at ATA's Natural Gas in Trucking Summit. Pickens' remarks will be made during a session titled "The Transformation of America's Energy Future" during the Nov. 28-30 event.
Pickens is chairman and chief executive officer of BP Capital, which operates energy-focused commodity and equity funds. He is also the largest shareholder in Clean Energy, the largest provider of vehicular natural gas in North America with a broad customer base in the refuse, transit, shuttle, taxi, police, intrastate and interstate trucking, airport and municipal fleet markets.
"We are thrilled to have Mr. Pickens share his views on natural gas at the summit" says Bill Graves, ATA president and CEO. "He is a true pioneer in the energy field. With his Pickens Plan, he has not just shaped the conversation about using natural gas in this country, he has changed the discussion almost single-handedly."
Graves also announced the first three major corporate sponsors: Clean Energy, Freightliner Trucks and TravelCenters of America. "This summit would not be possible without the ardent support of our allied members and the supplier community," Graves said. "These three companies have shown great commitment not just to developing natural gas, but to our entire industry for many, many years."
Summit registration for ATA members is open at www.trucking.org/naturalgassummit/Pages/default.aspx, and general registration will begin Aug. 1. For more information, call the summit hotline at 703-838-1935 or e-mail [email protected].