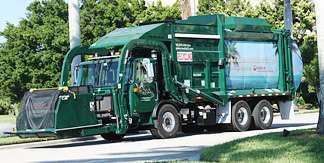 Vocational Energy announced the completion of a Veolia-owned compressed natural gas fueling station in Waunakee, Wis. Vocational Energy, headquartered in Fontana, Cal., has been crisscrossing the country over the past three years, designing and constructing turnkey CNG fueling stations for customers looking to augment their current fueling strategies with clean-burning domestic CNG.
"We've had a great relationship with Veolia, and this is both their first natural gas station in Wisconsin, but also the first operational CNG station to come online in the state," says Scott Edelbach, president of Vocational Energy. "The time-fill station will generate 239 diesel-gallon equivalent per hour, allowing Veolia to fill their trucks at night unassisted."
The time-fill system allows fleet operators to connect to the fueling hoses upon returning to the yard at the end of their day; the system fuels the trucks overnight and automatically shuts off when it senses the tanks were full. The station, which is designed to fill up to 47 trucks simultaneously, also has one fast-fill dispenser to allow trucks to fuel quickly if they need additional fuel during the day.
Gary DeVries, Veolia area manager for the Waunakee location, says the station and the 13 planned CNG garbage trucks will be used to service the greater Dane County area. The new Veolia garbage trucks are comprised of Autocar CNG-powered chassis combined with McNeilus and Heil refuse bodies.
"We're very excited for Veolia and see them as both early adopters of CNG-powered garbage trucks – and thought leaders in alternative fuel fleet strategies," says Edelbach. "This station will add to their CNG-based operations in other states like Florida and Illinois."