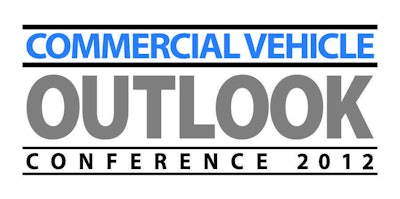 The volatility of diesel prices, desire to lessen dependence on foreign oil and pressure to improve the environmental footprint have made natural gas an increasingly desirable alternative to diesel fuel for the trucking industry. Intense interest in this topic will make the kick-off panel discussion at this year's Commercial Vehicle Outlook Conference – "CNG/LNG: Fueling the Future" – a not-to-be-missed session.
The panel will delve into the equipment issues, infrastructure needs and real-world fleet experiences surrounding natural gas technology, and will feature:
• Dr. Gene Goodson, alternative energy expert and former chief executive officer of Oshkosh Truck, opening speaker and moderator;
• Dr. Kennon Guglielmo, chief technical officer, EControls;
• Robert Carrick,vocational sales manager-natural gas, Freightliner Trucks; and
• Dan England, chairman, C.R. England, and chairman, American Trucking Associations.
The panel is scheduled for 1 p.m. Wednesday, Aug. 22. Other conference highlights include:
• Frank Luntz, the "hottest pollster" in America according to the Boston Globe and one of the four "top research minds" according to BusinessWeek, will deliver Wednesday's keynote address at 3:45 p.m. Luntz will give attendees his unique insights into the potential outcome of the November elections.;
• Trucking's Economic Outlook, featuring Jim Meil, vice president and chief economist for Eaton Corp., and Avery Vise, executive director of Research & Analysis at Randall-Reilly.
Presented by the Heavy Duty Manufacturers Association and Randall-Reilly Business Media and Information, which produces Commercial Carrier Journal and Successful Dealer, the conference will be held Aug. 22-23, the day prior to and the opening day of the Great American Trucking Show.
Registration begins at 11 a.m. Wednesday, followed by a networking lunch. A networking reception will be held immediately following the program on Wednesday. The conference ends at noon on Thursday when the Great American Trucking Show opens.
For more details and to register, go to www.cvoconline.com. The event is sponsored by Bridgestone, Castrol, Chevron, Espar Heater Systems, Freightliner, Kenworth, Paccar Engines, Peterbilt, TRP and Valvoline.