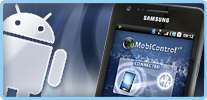 With the rapid increase in business adoption of Android and Apple devices, enterprises are having to replace computing devices more frequently. Mobile device management (MDM) has become essential for efficiency and security. Currently, Android provides limited management and security application program interface (APIs) for MDM vendors to leverage.
Companies that manufacture phones need to create their own APIs in order for MDM vendors to build tools to manage their devices. This creates disparity as each phone OEM adds functionality in varying degrees and forms.
Soti Inc, a provider of enterprise mobility device management (MDM), announced new technology that enables corporations to consistently manage security policies across Android devices from all manufacturers. The company says its approach is different from other MDM vendors because its technology provides consistent management for all Android devices regardless of the manufacturer.
SOTI says its management software, MobiControl MDM, provides:
– Full suite of help desk tools, including real-time remote control
– Secure Content Locker
– Silent installation of applications and updates
– Policies for controlling access to corporate email
– Device Lockdown/Kiosk functionality
– Location based automatic management (i.e. Geofencing)
– Remote wipe of corporate data or full device wipe
– Enterprise App Store
– Self Service Management Portal
"There is a lot of talk by the analysts these days about the need for management tools for Bring-Your-Own Device (BYOD) policies. Most MDM vendors cannot provide consistent management across all Android devices, making BYOD implementation impossible,"said Carl Rodrigues, President and CEO of Soti. "MobiControl's unique deep management functionality across all Android devices allows IT departments to set consistent BYOD security and management policies on Android, iOS and other platforms."